Monday, 01/06/2015
Graduation year: 1996 (MBA 4)
Supervisor at European Central Bank
LinkedIn Profile here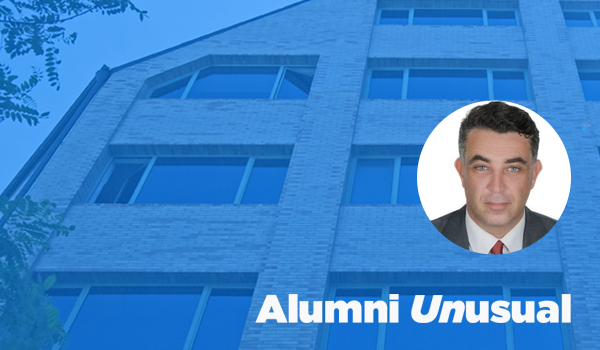 Looking back on your career, what was the most important decision you made (or didn't make) regarding your career path?
A career shift towards the Banking Risk and Finance functional areas some years ago.
What's the most important thing for recent grads to keep in mind as they start out their careers?
Learn how the business and operations work, from the inside, gain hands on experience (ideally in more than one areas), spend reasonable (two or three intensive years) time in such positions even if not managerial, before moving to a purely or to a large extent managerial role. This experience will be an asset and in many cases a competitive advantage during their entire career.
What made you choose ALBA for your graduate studies?
Its faculty and management reputation and quality, its vision and linkage with the market plus a scholarship.
Share with us your fondest memory while studying at ALBA.
Cannot distinguish one. If I have to spot something I would mention the reception day, being surrounded by interesting and talented people, full of hopes, plans, expectations and energy. Team work and healthy and constructive disputes with Assimakis Chadoumelis (late hours, either at ALBA Vouliagmeni premises or at his home, with his wife bearing with us …) also unforgettable. A lot of fun. Just to mention that very close friends of mine today (i.e. not memories), are ALBA class mates.
PROUST QUESTIONNAIRE
What is your greatest fear? The fact that sooner or later (except from very exceptional cases), one's existence and footprint are forgotten (oblivion).
Which historical figure do you most identify with? Socrates: Οὐδεὶς ἑκὼν κακός, 'Eν οἶδα ὅτι οὐδὲν οἶδα, Socratic method (given that these statements and approaches are attributed to him). I am not … so sure I would have opted for drinking the hemlock juice (κώνειο) though!
Which living person do you most admire? Mikis Theodorakis, for a number of reasons on top of his genius and music
What is the trait you most deplore in yourself? Sometimes, it is difficult to isolate my personal/family moments from professional worries/issues disruption. Improved a lot on this though. 
What is the trait you most deplore in others? Lack of sincerity
What is your greatest extravagance? Perhaps that I do not have one?? (as far as I am aware). 
What is your favorite journey? Given some personal temporary (I hope) circumstances: Athens – Alexandroupoli, for family purposes.  Considering the above is temporary: Driving from Greece to Madrid (through the Italian and French Riviera) along with my family is something I am looking forward to repeat to include now my son in the journey.
On what occasion do you lie? The ….. known cases that this (to my mind of course) is needed in order not to hurt, or to help someone (other than me, of course ..).
What is your greatest regret? Probably not having more children
What or who is the greatest love of your life? Orfeas and Alexandra (my son and wife).
When and where were you happiest? I do not think happiness can be measured, by its nature of definition. I have felt happy many times throughout my life stages (including the present one).
Which talent would you most like to have? Talking about normal talent (i.e. not necessarily being in the 0.1% of the population), I would like to be able to dance well (it is not the case i.e. no such innate capability in place J).
What is your current state of mind? Calm.
If you could change one thing about yourself, what would it be? Quit smoking.
If you could change one thing about your family, what would it be? Start it earlier.
What do you consider your greatest achievement? So far and given the circumstances in the economy: The fact that I am in a good position to plan and chase professional development and growth, in line with my aspirations, in the domestic or international market.
What is your most treasured possession? My EU passport! And some everyday objects that remind me of old happy days (too personal for any questionnaire).
Where would you like to live? Somewhere between Thessaloniki and Chalkidiki (by the coast please!). Despite being a  cliché, yes, it is absolutely true (Σαν τη Χαλκιδική..). Madrid also is a lovely place to live. Great balance between friendly and open people, good life culture, infrastructures, food, weather, cost of living and professional life and perspectives (at least pre-crisis but coming back again).
What is your favorite occupation? Music (play and listen). Play basketball.
What is your most marked characteristic? Constantly looking to learn, improve and challenge.
What do you most value in your friends? Being friends and being there at both good and tough moments
What are your favorite names? Orfeas (chosen name for my son), Eleni, Eleftheria
What is your motto? Live and let live and Just do it.