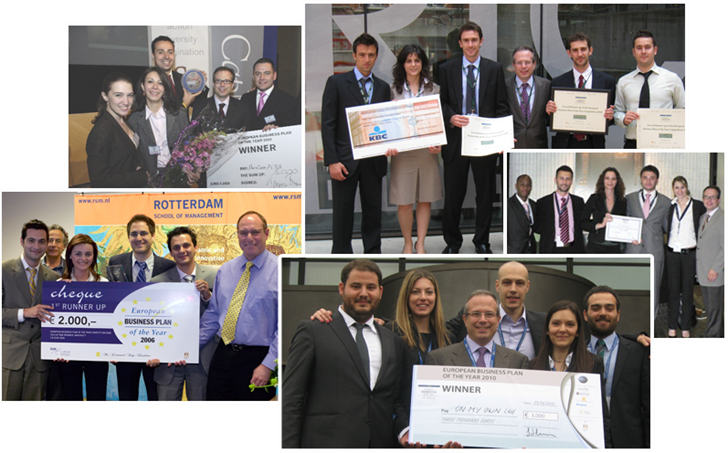 2003   - 1st Prize
"BIOCYCLE Ltd" Team: Dimitris Analytis, Irini Athanasopoulou, Costas Georgiou, Diana Fernandez-Costales and Tina Moutzouri
Business Plan: The treatment of agricultural waste through a biotechnological method and transformation of waste into nutrition supplements for human, pets and farm animals.
2005   -   1st Prize
"NANOCHEM S.A." Team: Dr. Ioannis Arabatzis, Despoina Chatzimichalaki, Anastasia Kopanaki, Dimitris Lykoudis and Ioannis Moraitidis
Business Plan: A new concept in the field of nanotechnology: an invisible, patent-protected, layer that can be applied to a variety of surfaces and provides them with self-cleaning, self-sterilizing and anti-fogging properties. These unique properties are induced upon the simple interaction with light! The plan has evolved in a successful and rapidly developing enterprise, Nanophos.
2006   -  1st Runner Up
"CURVE DYNAMICS" Team: Georgia Mavraki, Angeliki Menagia, Ilias Pitsavos, Nikolaos Roukas and Goce Serafimov
Business Plan: A revolutionary solution to the problem of car safety, through the patent-protected Curved Gears Differential, a completely innovative design of a highly efficient mechanism, with low complexity and fuel consumption that promises to increase performance and safety of every vehicle.
2007   -  1st Runner Up
"PNEUMATECH" Team: Apostolos Chouliaras, Flora Christoforou, Rodney Moloko, Thekla Pappa and Dejan Ralupovski
Business Plan: An innovative solution to vehicle performance and safety in trains by solving the existing problem of inappropriate wagon braking. This is achieved by utilizing the power of air harnessed by the science of pneumatics. 
2008   -  2nd Runner Up 
"EXELIXIS" Team: Christos Kalogris, Dimitris Damaskos, Iosifina Armaou, Ivica Lazevski and Stefanos Kourouthanasis 
Business Plan: The development of an innovative product Fireguard that puts out fire at its early stages of initiation, by an environmental friendly process. The elevator pitch of the team delivered by Stefanos Kourouthanasis was ranked as the BEST elevator pitch in the Competition!  
2010  -  1st Prize 
"On My Own Ltd" Team: Manos Athinaios, Fay Halkiadaki, Dimitra Oikonomou, Nikolaos Oikonomou and Dimitrios Vassiliadis
Business Plan: The development of innovative and easy-to-use devices for people with sensory disabilities. "On My Own Ltd." aims to improve the quality of life for people with sensory disabilities. Its initial product, "Touch & Hear", is a multi-functional bracelet/watch that can identify objects and reproduce a recognizable sound for each one detected. A complementary product to T&H will be "Listen & Learn", which is a Braille language learning method.
Participations at the final stage of the Competition 2001-2014 
1st and 2nd Awards
| | | | |
| --- | --- | --- | --- |
| Business School | Participations | 1st Award | 2nd Award |
| London Business School | 12 | 2 (2007, 2014) | 2 (2008, 2013) |
| Alba Graduate Business School | 10 | 3 (2003, 2005, 2010) | 2 (2006, 2007) |
| Imperial College Business School | 8 | 1 (2001) | 3 (2004, 2011,2014) |
| E. M. Lyon | 7 | 1 (2004) | - |
| WHU Otto Beisheim School of Management | 5 | 2 (2002, 2013) | 2 (2003, 2012) |
| Cranfield School of Management | 5 | 1 (2011) |  - |
| IESE Business School | 5 |  - | 1 (2001) |
| Rotterdam School of Management Erasmus University | 5 | 1 (2009) | 1 (2005) |
| Stockholm School of Entrepreneurship | 4 | 2 (2006, 2008) | 2 (2009, 2010) |
| INSEAD | 4 | - | 1 (2002) |
| Vlerick Leuve Gent Management School | 4 | - |  - |
| University of St. Gallen | 3 |  - |  - |
| Mannheim Business School | 2 | 1 (2012) |  - |
| SDA Bocconi | 2 |  - |  - |
| Helsinki University of Technology | 1 | - | - |
Related

actions 2003 Press 2005 Press 2006 Press 2007 Press 2008 Press 2010 Press