Tuesday, 29/07/2014
Graduation Year: 2004 (PMBA 8)
Community & Advocacy Programs Director, Developer Experience & Evangelism, Microsoft
LinkedIn Profile here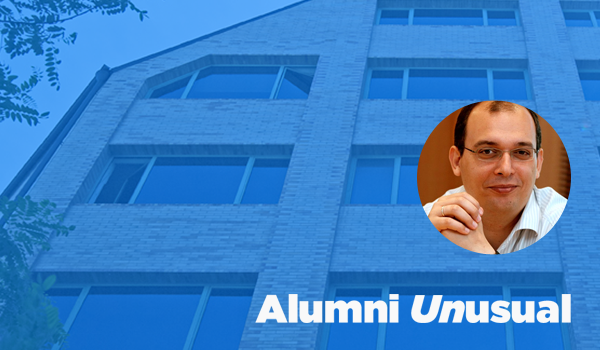 Could you update us on your latest professional developments?
I recently accepted a new role in Microsoft's corporate headquarters and will be moving to Redmond, Washington (near Seattle) with my family in August.  The role resides within the "Developer Experience and Evangelism" group, which owns the relationship with Developers and IT Professional around the world.  I will be responsible for our Social Media and Communities
strategy and execution worldwide.
What made you choose ALBA for your graduate studies?
I was looking for the best.  I asked around and almost everybody I asked pointed me to ALBA.  Some even described it as the HBS of Greece…J
Share with us your fondest memory while studying at ALBA
My fondest memory is the "oil pricing game" we played in the negotiations class, which introduced me to the world of game theory and led me to blindly sign up for Seraphim's brand new (back then)Strategic Thinking course, which is my second fondest memory.
PROUST QUESTIONNAIRE


What is your greatest fear? Something bad happening to my family
Which historical figure do you most identify with? Benjamin Franklin
Which living person do you most admire? Elon Musk
What is the trait you most deplore in yourself? Procrastination
What is the trait you most deplore in others? Denying/avoiding responsibility
What is your greatest extravagance? Vacations
What is your favorite journey? The one about to begin
On what occasion do you lie? When the pain resulting from the truth is unnecessary
What is your greatest regret? Nothing I can't change if I ever decide to
What or who is the greatest love of your life? My family (wife & kids)
When and where were you happiest? In all occasions where my kids eyes shine with happiness and excitement
Which talent would you most like to have? Playing drums
What is your current state of mind? Adventurous
If you could change one thing about yourself, what would it be? Taking better care of myself
If you could change one thing about your family, what would it be? Nothing, it's just the way I always wanted it to be
What do you consider your greatest achievement? Having a great, happy family
What is your most treasured possession? Drawings and postcards made by my kids (various ages)
Where would you like to live? I like to move around
What is your favorite occupation? Technology Evangelist & Speaker
What is your most marked characteristic? Contagious passion & enthusiasm
What do you most value in your friends? Being there when I need them
What are your favorite names? Dennis & Katerina
What is your motto? Challenge Everything