Monday, 01/12/2014
Graduation Year: 2008 (MBA 16)
International Business Development at Resources&Synergies Development
LinkedIn Profile here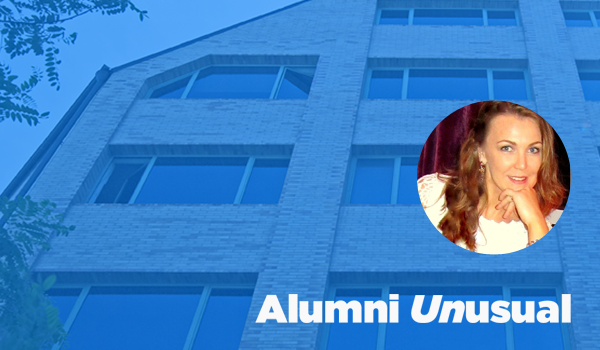 You've had a fascinating career at the UN which started in Athens just before you graduated from ALBA… Could you update us on your latest professional developments?
Indeed, the UNDP BSTIP office shut down, but I am still in the development sector. Now, as the key expert for the World Bank's Competitiveness Enhancement Project, I am working on the competiveness of Moldovan companies.
I would compare it with being a doctor for business, because in reality it is the full value chain – analysis of all the past activities, identification of internal & external obstacles, collaboration with numerous stakeholders, recommendations with the concrete action plan in detail for each industry and sector.  Black Sea region, Baltic Sea region, CIS countries – there is no region, country, industry and company where patterns could be applied. Some factors are different (political environment, for instance), and it is a constant puzzle and thankfully there is no routine at all.  Seeing the big picture is crucial for me.  And just like a doctor, seeing tangible results and improvements (e.g. increased export volume, contracts signed, turnover generated) comes as an added value and motivates me to do more. I am after challenges, untapped markets and unleashed potentials, where you can play with variables instead of walking on a pre-set path. I do not know, however, what my next career move will be once we have completed our project in Moldova…
What made you choose ALBA for your graduate studies?
I have to reveal that I do believe in lucky opportunities and since they do happen to me, I have no reason to doubt their existence. With this I have to admit that choosing ALBA was not a very determined decision. I had to move to Athens for family reasons and I decided to get an MBA which I initially wanted to obtain from a London university. It was an opportunity, to stop my career for a while and get that long wanted degree in Greece. After careful consideration and comparisons with other Greek universities, ALBA did fit the best and it was strongly recommended by many locals and family friends. Later on, I realized that my ALBA experience, regardless of cultural differences and my humanitarian sciences background which for some subjects made my life difficult, was the best I could ever have. And ALBA did shape me as a personality as well, not only as a business professional. Once more I have been lucky with my choices.
Share with us your fondest memory while studying at ALBA
I remember the first team put together by ALBA. Obviously, some psychological screening and personality profiling was done before hand, because our team consisted of personalities who could not possibly work together. Me and Ioannis Tzanakos – copy/paste similar, spoiled brats who take absolute ownership and stubbornly stand for what's right and always have an opinion – in one team together. This was foreseen to be a disaster, to give us a lesson on how to collaborate with difficult personalities. The truly funny thing is that after this, Ioannis and I were on the same team till the end of ALBA. He and the rest of the team supported me when I desperately wanted to choose UNDP Millennium Development Goals as our Marketing Plan even though it was not a typical business case and nobody else wanted it. Years have passed and now not only Ioannis but also his wife is one of my best friends. Whenever we meet, we always acknowledge and laugh that our friendship was yet another bonus given to us by ALBA!
PROUST QUESTIONNAIRE 

What is your greatest fear? My fears don't have a say. At summertime, I overcame my fear for swimming in a lake full with water lilies. Just did it. "Nike" style.
Which historical figure do you most identify with? If it would be hero of fiction then definitely Scarlet O'Hara.  We both are survivors, unrepentant smart-asses and can shoot somebody without flinching if needed.
Which living person do you most admire? My mum.  Passion for life I have definitely inherited from her.
What is the trait you most deplore in yourself? Risky behavior.
What is the trait you most deplore in others? Whining.
What is your greatest extravagance? 50 shades of … shoes.
What is your favorite journey? Life.
On what occasion do you lie? When it would hurt somebody else's feelings and the truth wouldn't be helpful anyway.
What is your greatest regret? Regret is pointless.
What or who is the greatest love of your life? My family. Dogs included.
When and where were you happiest? Those are countless moments here and there. Flip a page and... voila! Another one!
Which talent would you most like to have? Some magic skills would be nice.
What is your current state of mind? Sitting still but not waiting.  Ready but not anticipating. Looking around but not searching. Admiring but not wanting. Receiving but not taking.  Observing but not judging.
If you could change one thing about yourself, what would it be? Age
If you could change one thing about your family, what would it be? I would create circumstances for more happy gatherings.
What do you consider your greatest achievement? I still manage to stay in touch with all my friends without Facebook.
What is your most treasured possession? My memories.
Where would you like to live? In love.
What is your favorite occupation? Poker play – provides additional cash and bluffing is permitted.
What is your most marked characteristic? Birthmarks maybe
What do you most value in your friends? Sense of humor
What are your favorite names? Any name how one person calls another one when said from the bottom of their heart.
What is your motto? Carpe Diem