Friday, 08/05/2015
Graduation Year: 2004 (MSc in SHRM 1)
Transformation and Growth Advisor/Partner, Makgnus, UK
LinkedIn Profile here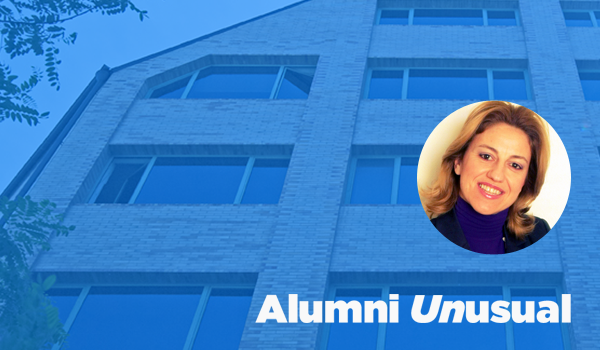 Looking back on your career, what was the most important decision you made (or didn't make) regarding your career path?
When I graduated, I decided to start working before doing my master's degree. My decision was based on the fact that having no hands on experience in the corporate environment, I couldn't be certain what career path I would like to pursue. Indeed, I started working as a Quality Administrator and after growing in other roles within the department I looked for advice. I asked leaders in the business what my strengths are and what field I should on for my master's degree. Thankfully, I've made the right choice and the last 10 yrs I'm working in HR roles and I help people develop and grow. It has not only repaid the student loan multiple times over, but also offered me the opportunity to do what I enjoy most. 
What's the most important thing for recent grads to keep in mind as they start out their careers?
Pace life which offers tremendous opportunities to learn and evolve. Be open, observe, listen maintain your curiosity. What drives your performance, what makes you a talent is your mindset and behaviors. Building your technical knowledge is a matter of commitment and time, the resources and content are usually offered to you. Engaging in the right, productive behaviors aligned with your value system is a matter of personal initiative that requires tenacity and daily practice.
What made you choose ALBA for your graduate studies?
ALBA is renowned for its quality, I would only go to the top in Greece. At the time that I was looking, ALBA introduced the part-time MSc in Strategic HRM, so there was no reason to consider any other provider.
Share with us your fondest memory while studying at ALBA.
The first memory is the fun and laughter with other class mates during the breaks. I met a wonderful friend, Eleni and despite the demands and pressure of the courses, I remember having a great time there. The second thing that I remember is the understanding and support of Maria Melioti when I was under huge pressure with work, travelling and personal issues.   
PROUST QUESTIONNAIRE
What is your greatest fear? Death of beloved
Which historical figure do you most identify with?  Joan of Arc
Which living person do you most admire? My mother
What is the trait you most deplore in yourself? Perfectionism
What is the trait you most deplore in others? Laziness
What is your greatest extravagance? My flat in London
What is your favorite journey? Road trip to South Peloponnese
On what occasion do you lie? When truth hurts
What is your greatest regret? Taking life too seriously some times
What or who is the greatest love of your life? The sea
When and where were you happiest? Most recent, April 17-19, Nafplio at my brother's wedding
Which talent would you most like to have? Painting
What is your current state of mind? Prosperous
If you could change one thing about yourself, what would it be? Find more fun and laughter in day to day
If you could change one thing about your family, what would it be? Living at the same place
What do you consider your greatest achievement? Being loved
What is your most treasured possession? my health …and the intellectual property of the Winning Minds Model
Where would you like to live? half year in Montreal and half in Greece
What is your favorite occupation? High brisk walking at Hampstead Heath, cooking
What is your most marked characteristic? My smile, people said that they remembered me from my smile
What do you most value in your friends? Sense of humor
What are your favorite names? George, Thomas

What is your motto? We'll get there