Friday, 01/03/2013
Graduation year: 2004 (MBA12)
Owner Pet Honest S.M.P.C.
LinkedIn Profile here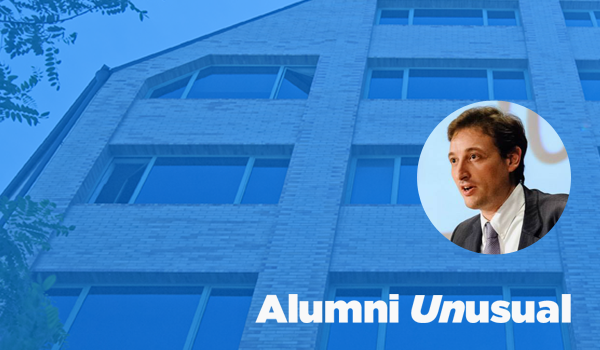 Could you update us on your latest professional developments?
 A few days ago I returned in Greece after having spent 4 years in Italy working for Nestle as Regional Business Controller and Export Manager. My new role is Regional Business Development Manager for the pet care product category where I will work in two main areas. The first relates to business management and is more operational where I have full P&L responsibility for two of our exports countries (Cyprus and Malta) working to grow revenues and profits, while enhancing the collaboration with our business partners. The second area is strategic in nature and I will lead a consulting 16month project to reinvent our business model across all the Balkan Peninsula (12) countries, defining our vision and looking on the areas of sales & distribution model, portfolio and pricing strategy and finally creating the appropriate organizational structure to support our future business model. 
How did Alba help you in your career?
Alba did not just help. It is still defining my career. During my Alba studies, I had my first opportunity to enhance my knowledge in several topics. While doing it, I experienced a moment of enlightenment where I understood that I was better in areas far away from my chosen professional field that was Finance. I had already 4 years of very successful work experience when I did the full time MBA and I thought that I was very good in Finance. The fact was that I was even better in areas like HR & Marketing and it became clear to me that I could go for a generalist career leading to general management. Several years now since I graduated, I continue my professional adventure and my new role is my first truly commercial role. The future looks very interesting!
Share with us your fondest memory while studying at Alba
The Alba year was probably the happiest year of my adult life. I have many fond memories of meeting and having new friends, laughing during the breaks (and sometimes during the lectures), being stimulated mentally by our lecturers, enjoying teamwork in the study groups and going through the rollercoaster of the exams every two months. But my fondest memory of all can only be one, meeting a beautiful girl that has been my partner for the last 10 years, my wife and the mother of our daughter. Cheers ALBA! :)  
What made you decide to pursue your career internationally at a time when most executives wanted to stay in Greece? What advice would you give your fellow alumni who are considering now more than ever leaving the country to find jobs abroad? 
I left Greece just before the storm on March 2009. At that time, I had behind me a very successful year with high revenues and improving profitability and without expecting our current predicament. I chose to leave for professional and personal reasons. Professionally, I wanted to be able to experience working in a different culture, have the possibility to further expand my horizons and to progress my career towards my aspirations. Personally, I am a person that loves change, I had spent already 4 years in the UK as a student and my family has roots in many countries, so it felt natural to experience a new life in a different country.
In 2013, things are different. Once again I am the exception for choosing to return to Greece when others want to leave. I completely understand why people want to leave. If you are unemployed, then definitely you need to consider the option of working abroad. Staying in Greece and just complaining about the troika will not provide the life you dream. But going abroad is very difficult and one needs to consider that as well. It is hard work, in sometimes inhospitable places, away from your support net (family & friends). Going abroad is not a trip to Disneyworld. I would urge my fellow alumni to look again in Greece. We have not reached the bottom of the barrel but we are close. The hardship of the last years is creating new entrepreneurs that are unlike the previous ones. No more souvlatzidika and frozen yogurt places but instead we see internet startups, agricultural produce exporters, interesting energy prospects and a more down to earth tourism industry. Look harder and you will see many hidden gems. The old Greece may not have died yet, but the new one has been born. Be a part of it!  
PROUST QUESTIONNAIRE
Your most marked characteristic? Transparency and perseverance 
The quality you most like in a man? Honesty 
The quality you most like in a woman? Honesty (and being attractive J) 
What do you most value in your friends? Openness and fun 
What is your favorite occupation? Listening to music & watching Formula One (Forza Ferrari!) 
What natural gift would you most like to possess? Empathy
What historical figures do you most despise? All political despots and religious fundamentalists
What is it you most dislike? Lies and dishonesty
What are your favorite names? Natalia, the name of my daughter
Who are your heroes in real life? Historical persons like Ghandi, Churchill, Thomas Jefferson & Aristotle. In our current circumstances all people that go through hardship and still smile
Who are your favorite painters? Monet and Pissarro.
Who are your favorite composers? Bach in classical terms, Chicago in modern terms (just love a good ballad)
Who is your favorite hero of fiction? Asterix J
Who are your favorite poets? I am not into poetry, sorry
What is your favorite color? Navy Blue
In what country would you like to live? Wherever my friends are, thus Greece
What would you like to be? I am who I want to be, no regrets
What to your mind would be the greatest of misfortunes? To pass through life only to exist, not live it fully
What is your dream of happiness? Looking out from my dream house in Syros to the beautiful sea surrounded by the laughter of my children (work in progress)
How would you like to die? Loved
What is your motto? Never, never, never give up (by W. Churchill)