Monday, 01/11/2021
This year, in true business unusual fashion, we held the Alba #Futureproof Careers Expo for the month of October where the business community met with Alba talent either live on campus or virtually, along with top talent from leading schools around the world!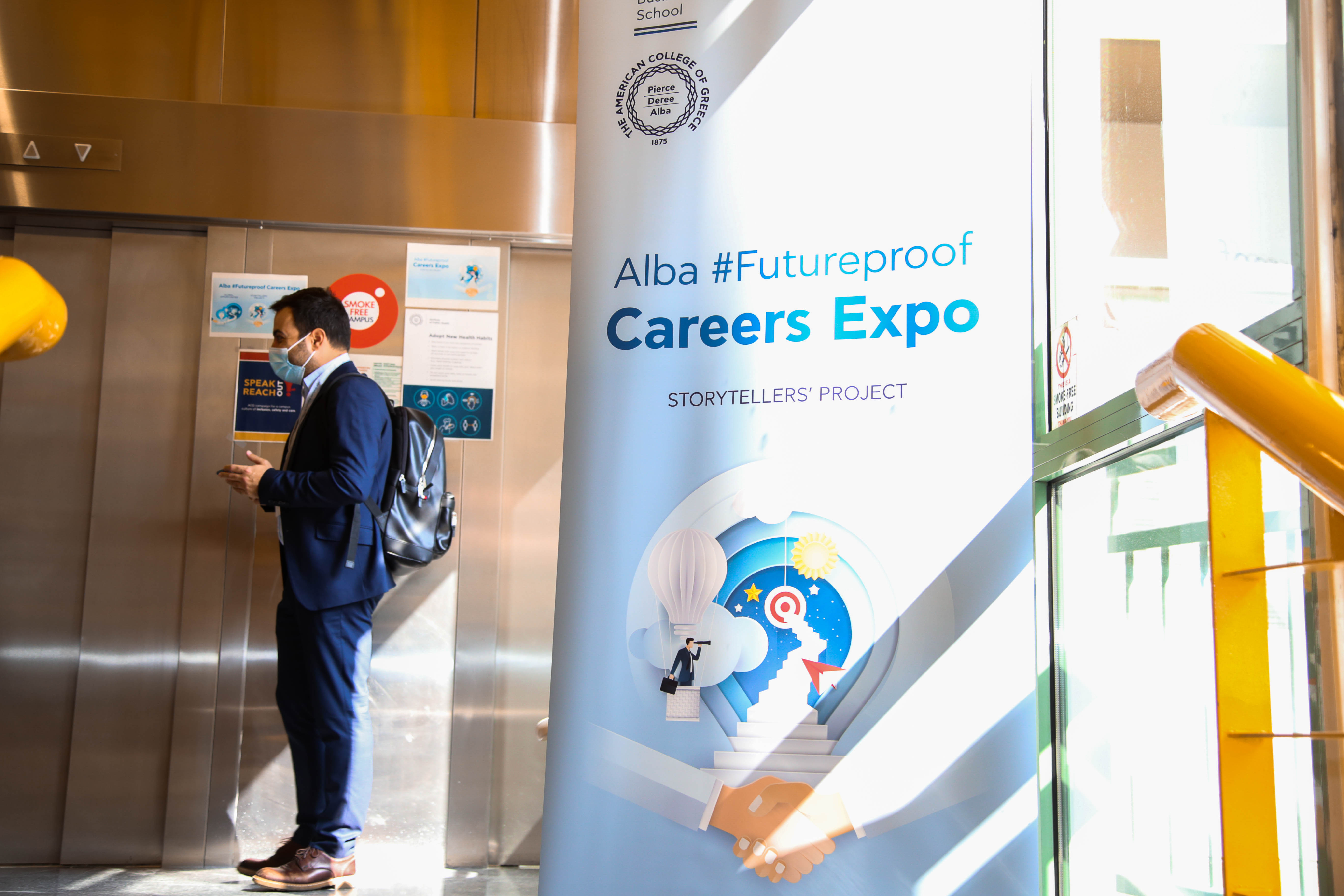 More specifically, our #Futureproof Careers Expo happened in 3 stages.
GLOBAL OPPORTUNITIES: Alba students participated in the Global EFMD Highered Virtual Fair and had the chance to meet with international companies from all over the world. Meanwhile, we also invited our corporate partners to take part and meet not only with Alba talent but also students from other high-ranking Universities and Business Schools across the globe during the week of October 11-15.
STORYTELLERS' PROJECT: 29 of our corporate partners met with Alba's 2021 graduating class in a live setting on campus during which recruiters and students shared their stories with each other. The live fair, held on October 19-21, included initiatives such as the elevator pitch challenge and an executive masterclass in Narrative Intelligence powered by Alba Executive Development, designed exclusively for all participating recruiters. The winner of the pitch challenge was MBA student Marios Pavlakis.  
VIRTUAL SPACE, REAL TALENT: during which Alba students were interviewed in a virtual setting by 58 of our corporate partners through our Highered career platform on October 25.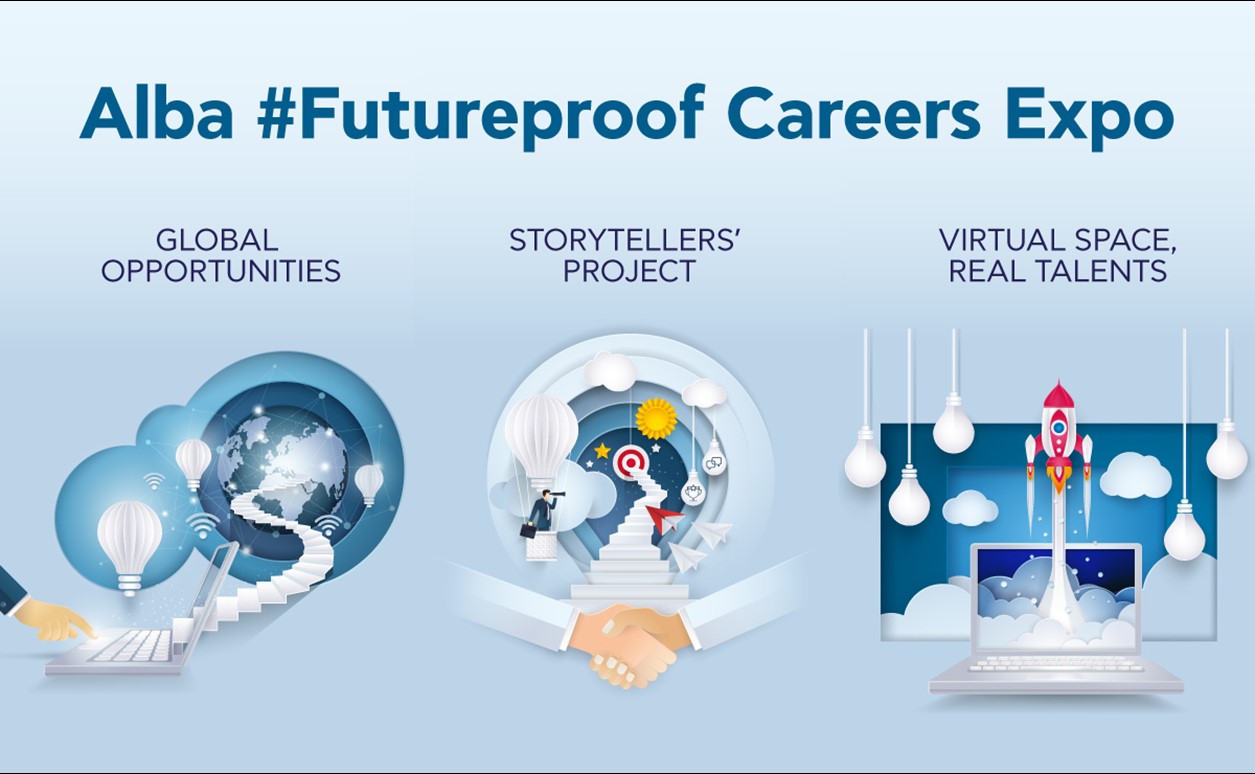 Some Interesting Stats
87 companies
50 students
117 recruiters
69 job posts shared in our Highered platform
687 total virtual stand visits
299 total job views
115 virtual chats with recruiters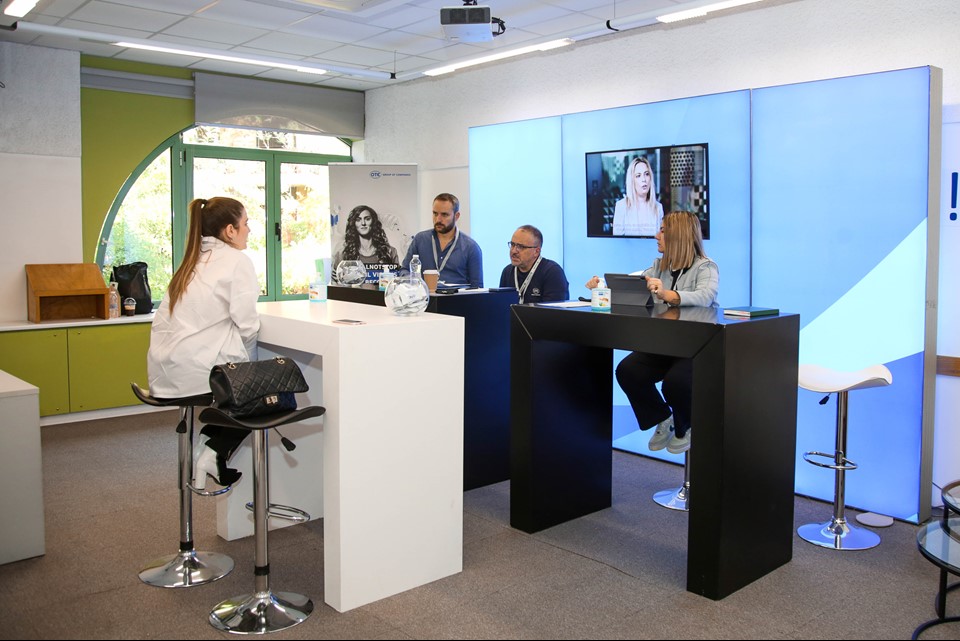 Participating companies
AB Vassilopoulos
Accenture
Adecco
Apivita
Arkas Hellas
Athenian Brewery
Avis
Barilla Hellas
BAT
Coca-Cola Tria Epsilon
Costa Navarino
Danaos
Deloitte
Dialectica
Dixons South-East Europe (Kotsovolos)
do Value
Ecolab
Enel Green Power Hellas
Eurobank
Four Seasons
Fysiko Aerio
Harbor Lab
Henkel
Hewlett Packard Enterprise
IBM
ICAP
Intersport
Isoplus
KPMG
Lamda Development
Lidl Hellas
Manpower Group Greece
Mars
Meihunt Executive Search
Miele

Mondelez International
Nova
OPAP
OTE Group of Companies
Papastratos
Pepsico
Persado
Piraeus Bank Group
PMM One Retail Group
Praktiker
Profile Software
Publicis Groupe
PwC
Randstad Hellas
Reborrn
Sanofi
Sarantis Group
Sealand Europe and Mediterranean
Seaven
Starbulk SA
Sunlight
Toyota Hellas
Viohalco
Vodafone
Wind
Zepos & Yannopoulos
Guidepoint Human Resources
Unilever
Insurance Market
Saracakis Group
Truberries
Real Time Graduates
Priority Quality Consultants
Motodynamics
Σoul Tailorς