Thursday, 16/03/2023
RCI 2022 Index: The Labor Market Trends Index at consistently high levels in the second half of last year
Greek labor market shows remarkable resilience and the Greek business executives maintain positive expectations for the growth of the Greek economy.
The positive expectations of Greek business executives regarding the prospects in the labor market and in the wider economy is demonstrated by the RCI (Recruitment Confidence Index), which remained at high levels during the second half of 2022, even so, there was a slight increase over the previous year.
RCI, The Barometer of Labor Market in Greece, has been stabilized at record levels following the last measurement of December 2022 – January 2023. For the second semester of 2022, the general Recruitment Confidence Index increased from 135.8 (in the 1st semester of 2022) to 138.4 and the specialized Index for managerial and executive positions also raised from 133 (in the 1st semester of 2022) to 133.8. It is the first time in the index history, since its launching in 2007, that both the general and the specialized indices remain at so high levels (above 130 for the general index and above 120 for the specialized personnel index) for four consecutive measurements.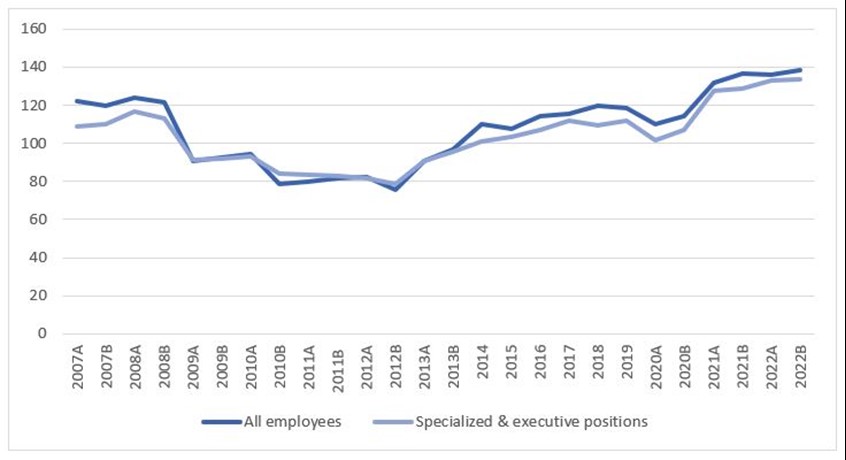 In other future focused variables measured in the RCI survey, it is worth mentioning that optimism is decreased while pessimism among executives is increased. Regarding the level of crisis influence, the estimation is that companies operating in Greece are now more affected than not affected from crisis. Finally, the results of the specialized theme investigated in the research cycle of the PCI Index depict a rather healthy image of employee psychological wellbeing in the workplace: positive feelings seem to surpass negative ones, while an overwhelming percentage of employees appear satisfied with their lives compared to those that express their dissatisfaction.
For the full report please you can click below or contact Mr. Aristotelis Alexopoulos, 210 8964531, [email protected]