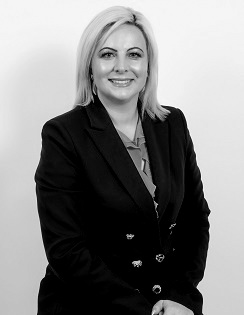 Androniki Triantafylli
Associate Professor in the Practice of Accounting
BA in Accounting and Finance , Athens University of Economics and Business, Greece ; MSc in Accounting and Finance, The London School of Economics and Political Science, UK ; Ph.D. , Athens University of Economics and Business, Greece; Post Doc , E.S.S.E.C Business School, France
Dr Androniki Triantafylli is an Associate Professor in the Practice of Accounting at Alba Graduate Business School. Prior to joining Alba, she has held the position of Senior Lecturer (Associate Professor) in Accounting at the Queen Mary University of London (2013- ), the position of the Senior Lecturer in Accounting for the Global M.B.A (Univeristy of London), the position of Lecturer in Accounting at the Alliance Manchester Business School, the University of Manchester and the position of postdoctoral research fLecturer in accounting at the E.S.S.E.C Business School in Paris, France. Dr Triantafylli received her PhD in Accounting with Distinction from the Athens University of Economics and Business (A.U.E.B) and she holds an MSc in Accounting and Finance from the London School of Economics and Political Science (L.S.E). Her research interests lie in the areas of Corporate Governance and Sustainability Reporting, Management Control Systems in Service sector companies and Integrated Reporting. She has supervised a number of PhD students in those related topics and she has received grants from the U.K in continuing her research. Her work has been published in reputable academic journals and has been presented at peer-reviewed conferences worldwide. She teaches Financial accounting, Management Accounting, Advanced Accounting and Reporting. Throughout the years, she has delivered lectures and workshops for a variety of Accounting courses at E.S.S.E.C Business School and the University of London. Prior to her PhD studies, Dr Triantafylli worked as an external Auditor for PWC and as a consultant in E.U costing projects.
SELECTED PUBLICATIONS
Triantafylli A., Kasbar, M., Haslam, C., Tsitsianis N., (2020) Does the Relationship be- tween Corporate Governance and Financial Outcomes Vary by the variation of Agency Conflicts? Corporate Governance, An International Review (under review)
Triantafylli A., Kasbar, M., Haslam, C., Tsitsianis N., (2020) 'A system approach on the empirical evaluation of the impact of Corporate Governance on firm financial outcomes', Academy of Management (under review)
Triantafylli, A., & Ballas, A., (2011) "Management Control Systems and Performance: An Empirical Analysis of the Greek Shipping Industry." Maritime Policy and Management 37, no. 6: 625-660.