Thursday, 01/12/2022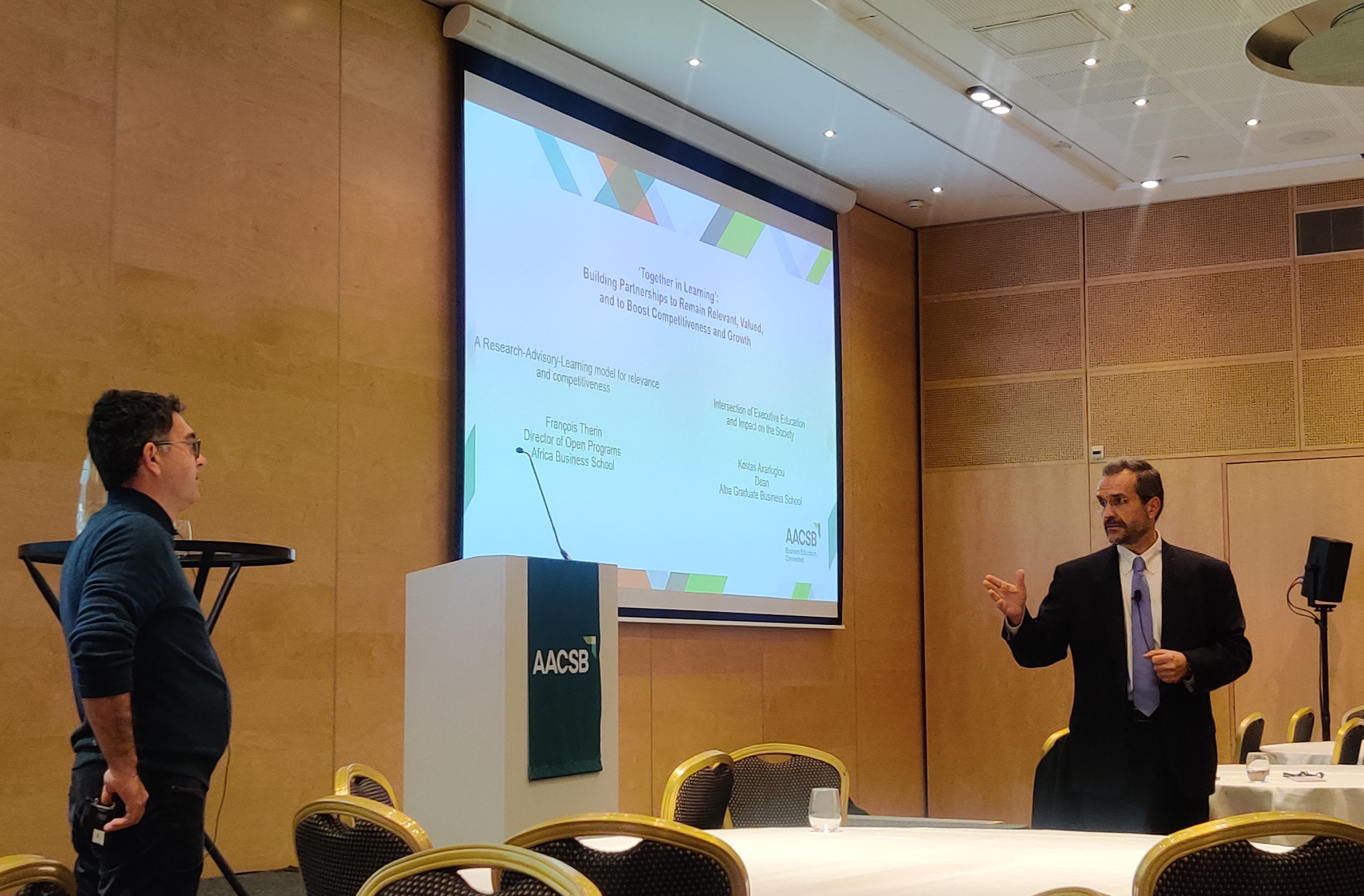 On November 24, esteemed academics from Europe, the Middle East, and Africa (EMEA) gathered in Amsterdam for the AACSB EMEA Annual Conference. Three hundred business school leaders from more than 44 countries attended the conference. They got a glimpse of how business schools have enhanced their students learning experiences, navigated through change, utilized innovation to create tomorrow's leaders, and established networking opportunities. Amongst the invited speakers was Kostas Axarloglou, Dean of Alba Graduate Business School, The American College of Greece, who presented the innovative Alba CSR learning series case. Launched by Alba Executive Development, Alba's meritorious executive education program was created to advance leadership and management skills training to achieve sustainable value and formulate a more resilient organization.
In his opening remarks, Dr. Axarloglou pointed out how we live in a disruptive world where unexpected phenomena erupt, proliferate, and propagate swiftly across the globe. He linked these disruptions with how skills and competencies become obsolete and how new ones are born and are in demand. Specifically, he emphasized the need for continuous learning and the importance of adapting successfully to new and evolving environments, leading to the evolution of value creation from shareholder to stakeholder.
Particularly, Dr. Axarloglou discussed the purpose of organizations to evolve by maximizing "shareholder" value to enhancing "stakeholder" value to achieve sustainability. He pointed out that the mission of business schools is to serve and empower learners with the mindset, values and competencies to address disruptive challenges and enable them to build a sustainable future.
"Business schools co-create value/purpose ecosystems not only with their customers but also with other universities, foundations, business federations, and government. At the same time, corporate customers evolve into organizational donors, aiming to contribute to the joint effort of adding value to the community. The customers (shareholders) evolve into donors (stakeholders) while value is diffused to the community."
Dr. Axarloglou expounded on the benefits of the Alba CSR Learning Series, which aims to transform corporate clients into organizational donors by engaging stakeholders in joint initiatives to add value to the community through collaborative and actionable learning.
Specifically, in the last few years, Alba has co-developed a significant number of learning programs addressed to student communities in various parts of Greece in order to offer younger generations access to cutting-edge knowledge and skills, network learning, and lifelong learning education. Finally, as Dr. Axarloglou summarized: "These initiatives are embraced both by organizational donors and foundations as well as by the participants of the learning programs and successfully unify shareholders and stakeholders into purposeful learning."
Watch the panel discussion here.