Monday, 20/03/2023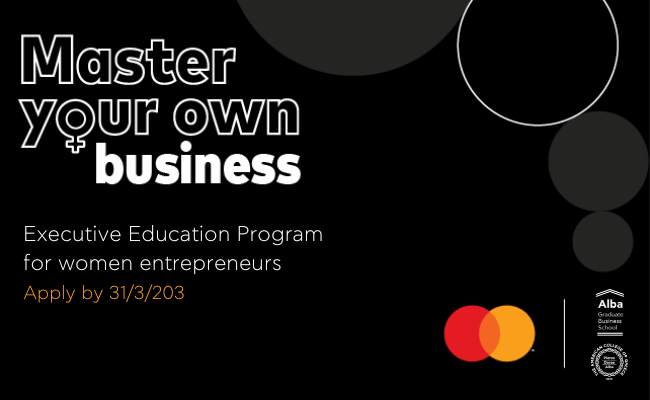 Mastercard announces the launch of "Master your Own Business" Executive Education Program for women entrepreneurs, in collaboration with our Executive Developmen department.
The Program aims to equip women across different seniority levels, functions, and industries, with cutting edge knowledge, skills and competencies, that will drive them to boost their mindset and design their own future, while they also establish and boost a dynamic learning network through which they will share their insights, challenges and opportunities for growth.
Loukia Chorafa, Mastercard's Head of Marketing & Communications, for Greece, Cyprus and Malta, stated: "Mastercard actively supports women throughout their careers, providing them with the right tools to pursue their dreams of a professional career. This year, we are expanding our actions on women's empowerment in the professional sphere, and standing with more women, which fills us with joy and pride, and reminds us that highlighting the potential of every woman at all stages of her professional life is . truly priceless."

Additionally, Marina Gryllaki, Executive Development Director, Alba Graduate Business School, The American College of Greece stated that: "The long-term experience of Alba's Executive Development department in designing and conducting programs that focus on the professional and personal development of women, indicates that the these programs help women develop self-awareness and self-confidence in order to effectively manage the challenges and opportunities presented in their career path. At the same time, they offer the participants the framework to connect with each other, create networks of shared values and shared knowledge, share their thoughts and ideas and plan their future. It is a special honor for Alba to contribute to the cause and be part of the ecosystem of professional empowerment of women and creation of value for the community that Mastercard has been building in recent years."