Thursday, 08/09/2016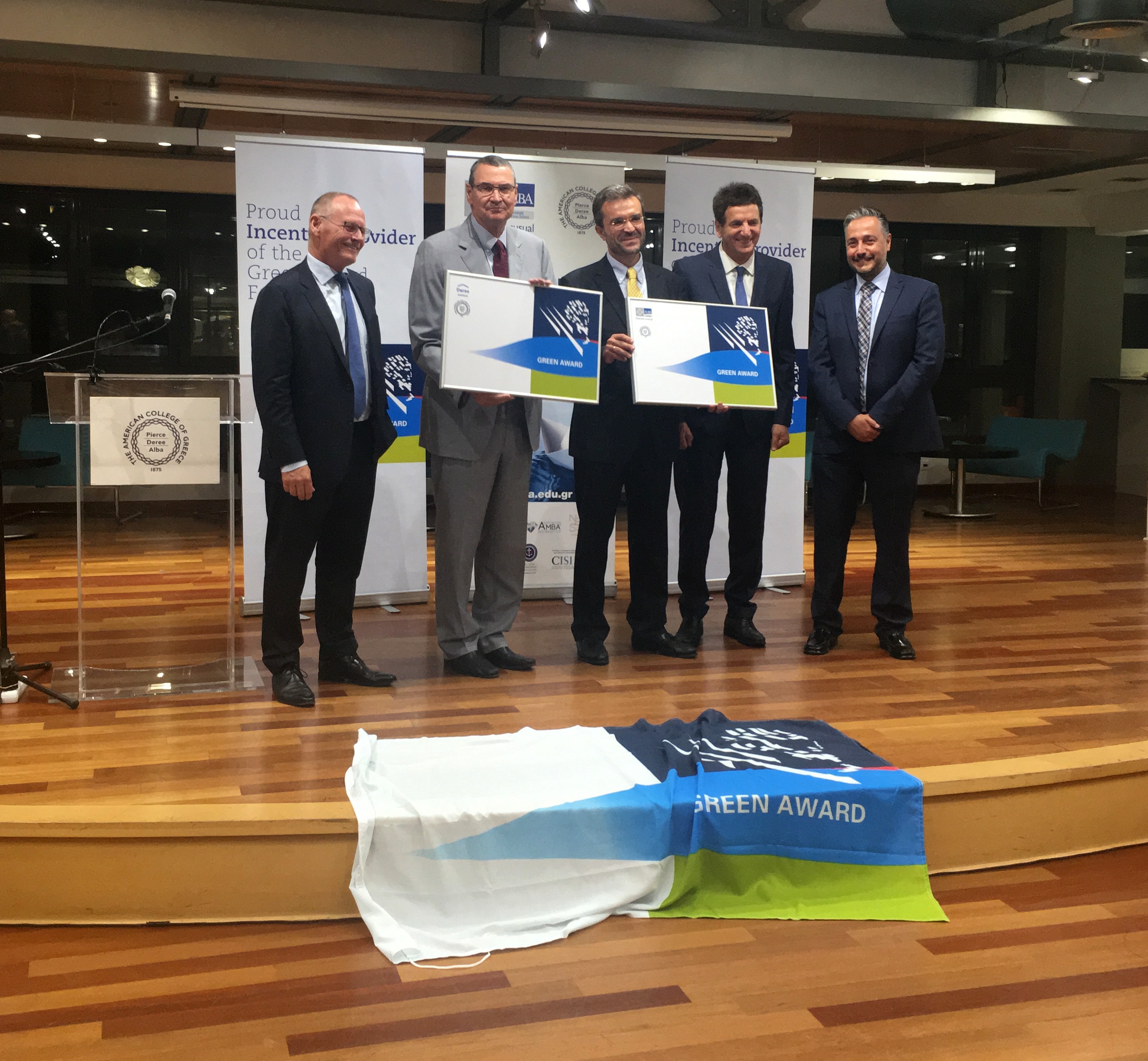 ALBA Graduate Business School and Deree – The American College of Greece have declared their support to Green Award's mission and to its certificate holders. Green Award inspects and certifies shipping companies and ships that go well over and above statutory requirements. Ships and companies, which have succeeded in complying with the Green Award standards, get a certificate. Ports and maritime sector companies reward their efforts by offering special deals and discounts.
In order to endorse achievements of Green Award certificate holders, ALBA and Deree decided to join the certification scheme. The handover of the Green Award board ceremony took place on Wednesday, the 7th of September, 2016, in Athens. Green Award Chairman Mr Dimitrios Mattheou shook hands with Dr. David G. Horner, President of The American College of Greece and Dr. Axarloglou of ALBA. This symbolic handover commemorated the entrance of ALBA and Deree into the Green Award scheme as incentive providers.

ALBA Graduate Business School will offer Green Award companies and ships a 10% scholarship on postgraduate and Executive courses while Deree will offer a 10% scholarship on Undergraduate and Graduate courses. The offer applies to all employees and their children of all certified companies/vessels.
"ALBA and Deree are dedicated to educate visionary leaders of tomorrow, who will act as agents of change and help shape the future business world," said Green Award's Chairman Mr. Mattheou. "Business Unusual" signifies ALBA's unwavering commitment to setting sights over the horizon, reaching for visionary ideals and working restlessly to get there, against the tide and against all odds.

In the face of economic, social, political and environmental crisis, Deree College maintains the highest ethical and educational standards, while constantly developing innovative curricula in higher education."

"ALBA is committed on educating business leaders with ethics and phronesis", The Dean of ALBA, Professor Axarloglou said. "As such, we are excited in sharing and supporting the mission of Green Award for environmental care in maritime and shipping offering a scholarship program to the companies that receive the Award. At the same time, we feel privileged to be the first Graduate Business School in supporting the mission of Green Award and we are committed on it as we share similar values; for the benefit of our stakeholders and the society."

President Horner said: "In recent years The American College of Greece has committed itself to implementing a comprehensive sustainability initiative. Last year we were proud to be the first College or University in Europe and only the third outside the U.S. and Canada to receive a STARS rating. Supporting the Green Award is a wonderful addition to our growing portfolio of sustainability activities."