/
/
/
/
Women on Top partial Scholarships
Women on Top partial Scholarships
Description:
Women on Top offers two partial and merit based scholarships  for any of the listed postgraduate degrees offered by Alba for academic period of 2023/24.
The Alba MBA
MBA in Shipping
MSc in International Business and Management
MSc in Entrepreneurship
MSc in Strategic HRM
MSc in Finance
MSc in Marketing
MSc in Shipping Management
MSc in Business for Lawyers
MSc in Tourism Management
The purpose of this initiative is to support women who are ready to invest in their professional development, with the aim of working creatively in demanding yet promising roles, that they will retain throughout most of their career and ensure their financial independence.
The scholarship is available to interested applicants from WoT's community who aspire to substantially contribute to the prosperity of the businesses that they will work for (or create themselves) and bring positive change in the society around them through their job. 
In order to receive the scholarship, applicants need to both complete the relevant evaluation form by Women on Top and receive a positive evaluation of their academic application submitted to Alba Graduate Business School for the postgraduate degree of interest. Information about Alba's academic programs, the application process and the necessary supporting documents may be found on the webpage of each program.
To claim one of the two scholarships offered by Women on Top applicants need to:
Submit the form that you may find here (in Greek).
Launch Alba's academic application process for the postgraduate degree of interest here.
The scholarship recipients will be selected among the applicants who have successfully gone through the academic evaluation process by a joint Women on Top and Alba Graduate Business School committee based on the following criteria:
The way they have showcased their motivation, commitment and potential in the Women on Top questionnaire.
Their academic application submitted to Alba.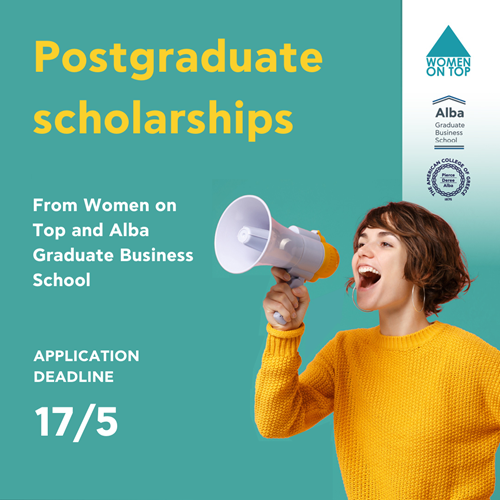 The deadline for the scholarship applications is 17/05/2023 and refer to degree programs that will be starting in September and October 2023 or January 2024 depending on the academic program. Up to that date, applicants need to have expressed their interest for the scholarship by following the guidelines outlined previously and have finalized their application for the selected postgraduate degree. 
For more information regarding the scholarship, please contact Women on Top at [email protected]
For inquiries regarding the academic programs and Alba's application process you may contact the relevant program manager using the contact details on Alba's website.
Aid Percentage:
The scholarships covers 50% of the degree's tuition fee and has no age limit or specific business profile requirements.
Deadline:
17 May, 2023
Related

actions Full announcement in English