Monday, 17/03/2014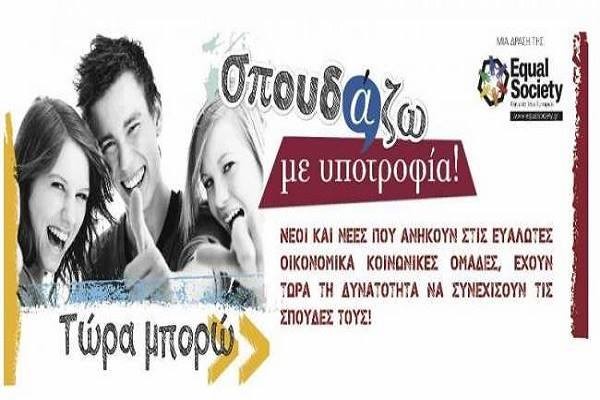 The second year of the' Study on Scholarship" Program by Equal Society - Society for Equal Opportunities ended with a significant contribution from ALBA. We offered the opportunity to another candidate from economically vulnerable group of people team to continue his studies at the MSc in Strategic Human Resources Management.
After the initial assessment of social & economical criteria, carried out by the Committee of the Non- Governmental Organization "Equal Society", and the evaluation followed by our academic committee, Mr. Tsokaras was awarded the full scholarship.
He told us : " .... I am very happy for the opportunity and for attending this program. A dream finally became a reality, with the help of ALBA and Equal Society who actively support young people belonging to vulnerable economic groups, enabling them to continue their studies and to proceed further in achieving their goals".
Mr. Tsokaras, is the fourth student, so far, to be awarded a full Scholarship at ALBA through the "Study on Scholarship" Program. We wish him good luck with his studies and future career.
The cooperation of ALBA with the Equal Society will continue for the third year.
Specifically, ALBA announced the offer of two (2) full scholarships. One for the MSc in International Business and Management and one for the new MSc in Entrepreneurship.
Both programs start on September 2014 and tuition fees are 12,500.
 Nikos Mylonopoulos, Associate Dean, mentioned:  "Our partnership with Equal Society is an important part of our work and gives us great satisfaction. ALBA was founded as a not-for-profit educational association of corporations with the mission to educate the leaders who will make the difference in the economy and society. In this context, ALBA has always offered scholarships to the best candidates, and financial assistance to people facing serious economic hardship, in order to actively promote equal opportunities and meritocracy. Therefore, the mission of ALBA and that of Equal Society are inherently aligned.
Besides, we're deeply touched by the faith, passion and dedication of the people of Equal Society in pursuing their mission.  Their work has a real and lasting effect, changing people's lives for the better. Professors and staff of ALBA share similar dedication, faith and perseverance in order to offer to the Greek society scientific research and education of international quality and to ensure that the students of ALBA can change their lives, and the lives of those around them, through their studies here in Greece. The greatest satisfaction for teachers comes from the achievements of their students. Our partnership with Equal Society already makes us proud. We look forward to further pursuing our goals together".
Interested parties should submit their application to Equal Society by 06.06.2014 and in the meantime their academic application at ALBA later than 13.06.2014.
Economic & social criteria set by Equal Society and also details about the academic criteria of both programs, will be posted soon at http://spoudazo.equalsociety.gr