Thursday, 29/09/2022
Alba joins forces with CSR Hellas to launch the ESG Barometer, an innovative tool to measure perceptions on Greek companies' ESG initiatives.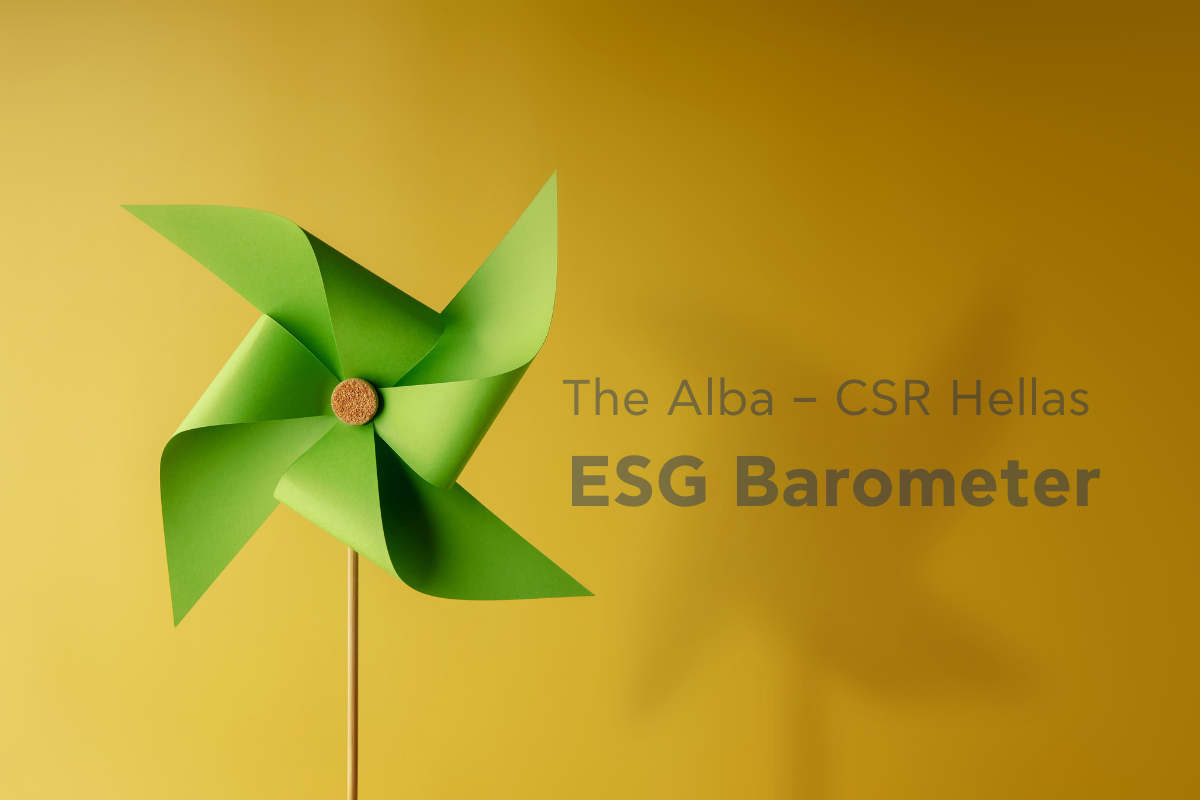 What perceptions and attitudes does the general public hold about Greek companies' CSR practices? What is the relationship between humble and sustainable corporate performance? What do employees in Greek companies think about fairness and trust in the workplace? What kind of relationships they have with their managers? What is the level of engagement in companies in Greece? 
To answer these questions, Alba joined forces with CSR Hellas to launch the ESG Barometer, an applied research project, that aims to record the opinions of employees, business leaders and of the general public with respect to the ESG and sustainability-related actions of Greek enterprises. It will also examine the relationship of ESG perceptions with major factors affecting the successful operation of businesses, such as trust and fairness in the workplace, employee relationships with their managers and employee engagement.
It should be noted that this applied research effort represents a practical tool of special added value for the participating businesses: once the research is concluded, each participating company will receive a customized, detailed—and anonymous—report with the perceptions and attitudes of its workforce, plus an opportunity to benchmark with the results from other participating populations like business leaders, other companies and the general public.
High-quality psychometric tools and an innovative agenda to improve CSR levels in Greece
The ESG Barometer, to be launched soon with CSR Hellas, is supported by The Theodore Papalexopoulos Chair in Sustainability at Alba. Employing high-quality psychometric tools, it will measure especially innovative topics among others the relationship between humble leadership and ESG performance
Pavlos Vlachos, Associate Professor of Marketing and The Theodore Papalexopoulos Chair in Sustainability at Alba, commented: "The ESG barometer represents an opportunity to honor, remember and learn from the humble leadership style of Theodore Papalexopoulos,  a type of leadership that is currently not well examined in current ESG literature." But there's more to the ESG Barometer than the quality of its psychometric tools and its innovative agenda. ESG Barometer is expected to cover the need for a more comprehensive measurement of ESG topics, which is compatible with the concept of stakeholder capitalism. More specifically, we will measure and compare the perceptions of three major stakeholders: CEOs and members of the Top Management Team, mid-level and operational employees, and finally what we call 'the general public'. We expect the results to offer actionable data and managerial insight to be used by managers and policy makers, hoping to advance the impact of ESG activities in our country" Dr. Vlachos concluded.  
Linking research findings with critical variables, helping businesses operate successfully
On his part, Aristotelis Alexopoulos,  Applied Research and Innovation Director at Alba, stressed that Alba has launched this new research in the context of its dual mission to generate and disseminate new management-related knowledge. The aim of the research is two-fold, Mr. Alexopoulos added: "To record employees' opinions regarding ESG actions implemented by the companies they work for and to connect these opinions with variables that are critical for the successful operation of businesses, such as trust and fairness within the organization."
Of course, such information will be shared with the participating businesses free of charge. "This will help them obtain a more accurate view of the perceptions that prevail in their organizational environment, offering them the opportunity to use this information in their ESG planning".
Stay tuned for the call for participation!