Monday, 30/01/2023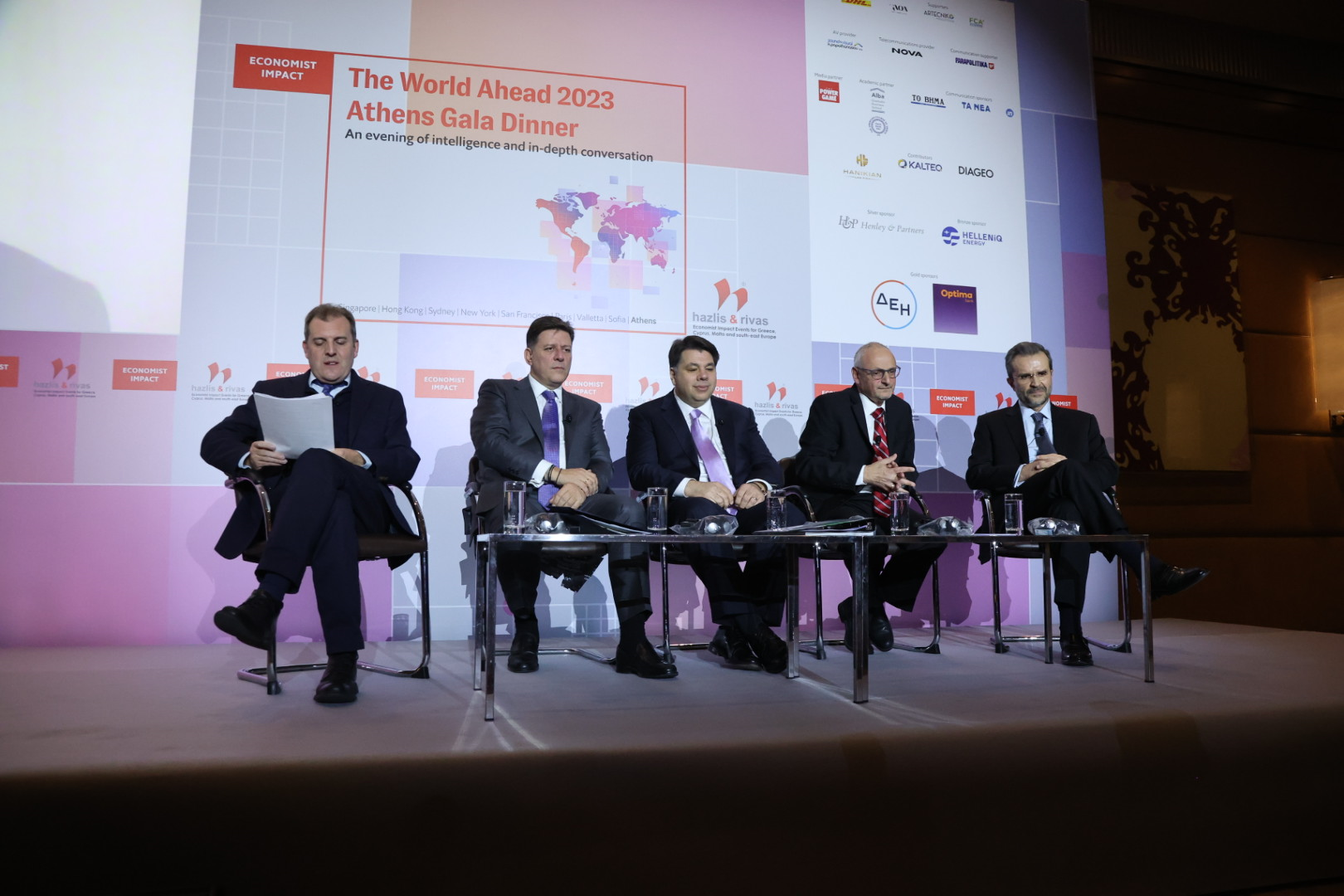 Looking ahead to the rest of the 2023, The Economist's hosted the award-winning World Ahead Gala Dinner series at the Athenaeum Intercontinental Athens Hotel on January 27th 2023. The Economist Events for Greece, Cyprus, Malta and south-eastern Europe, brought together luminaries who shared their bold, candid, shocking, but always entertaining predictions for the year ahead. The event was a success and attracted high-level and intellectually curious individuals, including readers of The Economist, C-suite executives, business leaders, senior representatives from the government, leading academics and thinkers, as well as 3,428 online attendees and 452 invited guests from 14 countries.
Amongst the invited speakers was Dean Kostas Axarloglou, who participated in an in-depth conversation on the "GEOPOLITICAL CHALLENGES IN THE REGION" with John Peet, political editor, The Economist, Miltiadis Varvitsiotis, alternate minister of foreign affairs of Greece, George Tsunis, US Ambassador to Greece, Noam Katz, Ambassador of Israel to Greece, and George Taniskidis, Chairman of Optima Bank.
Kicking off his speech, Dean Axarloglou stressed the fact that in the post-COVID-19 era, increasingly more people opt to do things remotely, such as transactions, communication, learning, healthcare, etc. This transition, leads to an interesting paradox, where location has become less relevant in doing things and more relevant concerning where we are located work wise- allowing us to still be very productive and part of the global value chain management (partially explaining the "Great Attrition.")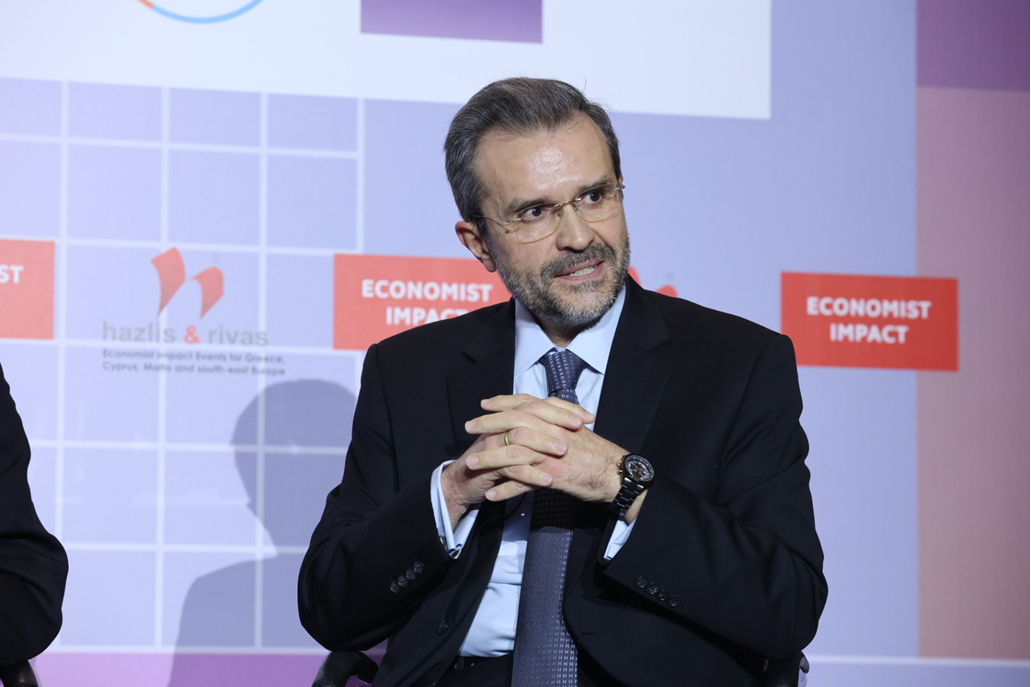 According to Dean Axarloglou, this confirms the need to enrich skills and competencies and explains why talent, knowledge, and innovation hubs have become more critical (e.g., Route 128, Research Triangle, Tel Aviv, Thessaloniki, etc.). For example, due to its geographic position and geopolitical significance, Thessaloniki is an emerging city and, most important, a recognizable innovation hub in Southeast Europe. Moreover, Dean Axarloglou clarified the meaning and importance of Global Value Chain Networks, helping the audience understand their value when he stated, "Global Value Chain Networks are networks that share resources and connect local knowledge/innovation hubs to co-create knowledge and co-develop innovation."
Proceeding with his speech, the Dean enlightened the audience on who the various stakeholders are and their significant role in the Global Value Chain Networks -- local communities, universities, companies, and "shareable" (among innovation hubs) talent (e.g., academics, digital nomads, virtual employees, etc.). In particular, smaller countries, like Greece and Israel, can quickly "leapfrog" and create value by being part of the global value chain network and community. Their extensive academic and research community can aid – through synergies and shareable resources – the operation of research and development of medium and large enterprises or spin-off companies.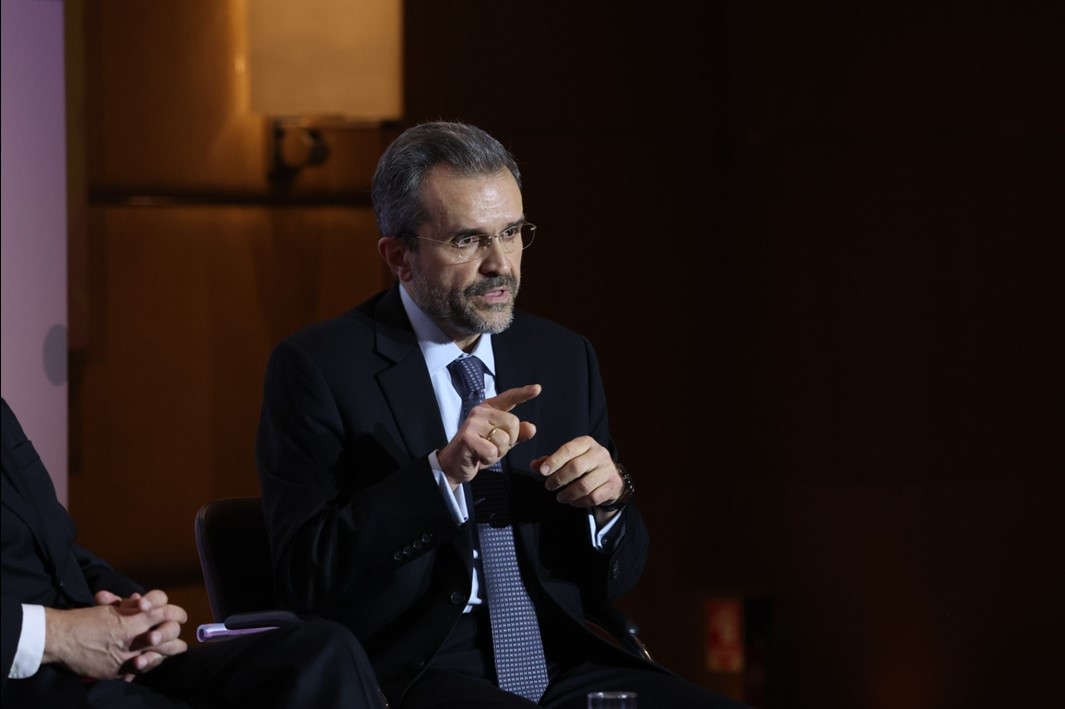 In conclusion, when asked about how the networks of innovation in the region can solve the current energy security and climate change issues, Dean Axarloglou acknowledged: "When countries are connected, they co-create value, and that resembles pretty much the function of multiplication of networks. When interconnected, companies can create value, innovation, and new products and processes that positively impact the economy."