Tuesday, 17/05/2022
 This list honors the best international business school professors under the age of 40 who have been nominated by students, alumni, faculty, and staff.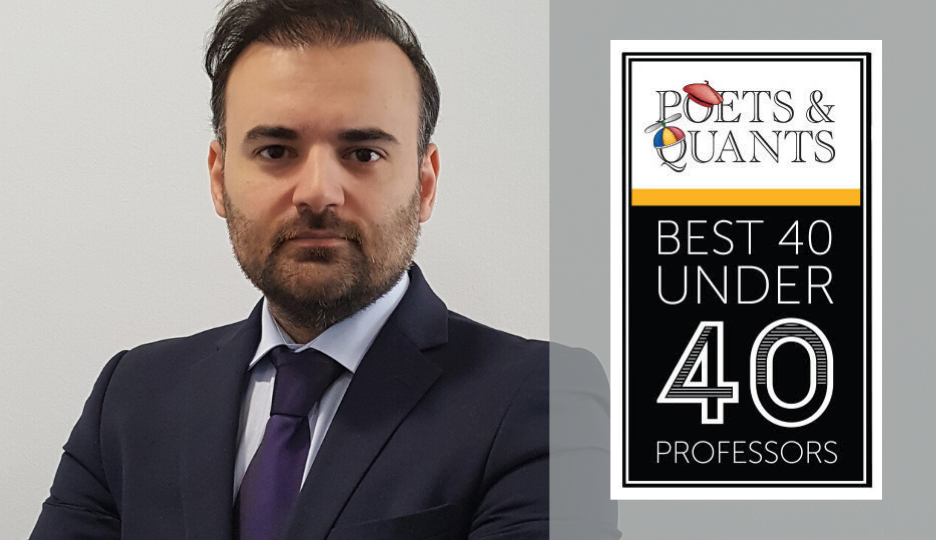 The business education-focused publication Poets & Quants announced their "Best 40 Under 40 Business School Professors" for 2022. This list honors the best business school professors under the age of 40 who have been nominated by students, alumni, faculty, and staff for being "masters in the classrooms, influence business and policy, are prolific researchers, and have demonstrated meaningful impact on their fields". Before selecting this year's winners, the editorial team went through roughly 2,250 nominations for nearly 140 professors worldwide.
Hailing from top universities around the world, including the US, the UK, Germany, Canada, France, Israel, Switzerland, China, Spain and more, these forty rising star professors thrive in research and have overcome the stigma of being a "green professor" in the classroom. These young professors come from a variety of backgrounds and fields, including strategy, economics, behavioral science, marketing, and entrepreneurship. 
This is the 10th edition of this annual recognition and professors on the 2022 list come from 33 different schools from which 14 are schools outside the United State. Even though professors of Greek origin have been featured before in this ranking, it is the first time ever a Greek Business School is included! 
Dr. Axarloglou, Dean of Alba Graduate Business School, stated: "We are honored to have Dr. Batsakis among our faculty. In a knowledge-intensive world where knowledge creation with impact is imperative, , Dr. Batsakis excels in both. His distinction showcases the School's DNA of academic excellence and commitment to relevant business education."
George Batsakis, PhD, is an Associate Professor of International Business. He has previously held academic positions at Brunel University London and the University of Kent.
His research focuses on internationalization processes and foreign market entry strategies of multinational enterprises and, in particular, how firms decide to enter foreign markets and how their decisions affect their performance. Dr. Batsakis has published in top-tier international business and general management academic journals (ABS 4* and ABS 4 rated), such as the Journal of International Business Studies, Journal of World Business, Journal of Product Innovation Management, and British Journal of Management, among others.
His teaching lies in the areas of international business, strategic management, and entrepreneurship. His vision of the business school of the future "would have much more action-based learning and experiential and experimental learning."
Dr. Batsakis has acted as Track-Chair of leading academic conferences, and he is an active ad-hoc reviewer for several highly-rated academic journals in the area of international business and general management.
He has established strong ties with the industry, where he regularly advises pre-seed stage startups on issues revolving around business model formulation, proof of concept, and demand validation, while he is frequently invited as a speaker in practitioners' executive seminars and as a mentor and judge in leading national and international startup competitions (e.g., Disrupt Greece, EGG by Eurobank, VISA Innovation Program).
A passionate academic
Commenting on what makes him stand out as a professor, Dr. Batsakis mentioned "Looking into my teaching evaluations throughout all these years I think what makes me stand out as a professor is my relentless dedication to the students and the fact that I am always available to them for providing guidance and feedback. I wouldn't describe myself as a gifted professor but as a passionate academic who is always eager to go the extra mile for his students. "
Reciprocal learning what he enjoys most about teaching business students "Working with experienced professionals and executives gives us (academics) the privilege of sharing our knowledge with what one can call agents of change. At the same time we have the opportunity to learn directly from the source about new industry trends and changing dynamics"
Enjoy Dr. Batsakis P&Q questionnaire and profile here.
The profiles of all awarded professors aim to reveal some insight into their backgrounds, teaching styles, and research while the winners answers to P&Q questions  are candid, funny, and insightful. 
You may find the full P&Q article here.
Also Press Release in Greek available here 
We wish to join Poets&Quants in congratulating all of this year's 40-Under-40 MBA instructors, both men and women. They are all "among the most promising young academics tasked with passing on their knowledge and experience to promising young professionals just starting their careers, regardless of what they study, the courses they teach, or where they work."