Friday, 04/12/2009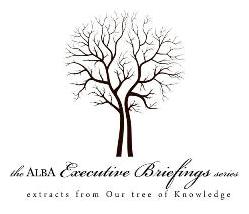 A new ALBA initiative for the promotion of management science
and practices among Greek enterprises
A new service has been developed by the Applied Research & Innovation Department that is addressed to all companies that want to strengthen their employees' knowledge. A series of articles by the ALBA faculty (based on academic research results) has been compiled and made available to HR managers who wish to develop a library of useful information on several business thematic areas.
Since its creation, ALBA has the vision to contribute to the production of new knowledge – through research – and, furthermore, to make this new knowledge available to the business community and society in general. In this framework, the ALBA Executive Briefings can be seen as a "bridge" for ideas, theories, methods, etc., developed abroad to be introduced in the Greek business environment.
The ALBA Executive Briefings will be accompanied by two Executive Breakfasts on selected business subjects per year, exclusively for companies that employ the Executive Briefings. The first company which provided this service to its employees through their intranet portal is TT Bank. TT Bank created a library section in the intranet portal accessed only by its employees, where the ALBA Executive Briefings are presented.
Any company that would like to learn more about this new service may contact Mr. Aristotelis Alexopoulos at: [email protected], +30 210 8964531, or Ms Marina Gryllaki, Director of Executive Development Programs Department.