Thursday, 01/05/2014
Graduation Year: 2008 (PMBA 12)
HR Director at Travelplanet24/ Tripsta
LinkedIn Profile here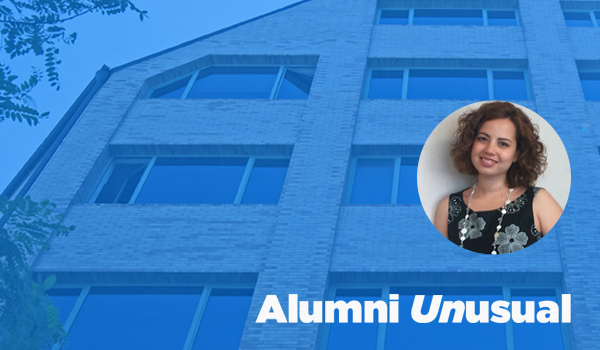 Could you update us on your latest professional developments?
In the last 8 years, ING has kept me busy with very interesting HR initiatives, mainly in -but not limited to- the area of Development and Talent Management.  I have been lucky enough to experience, participate and contribute to many changes within my company – a fact that has kept me engaged and creative for all these years.
What made you choose ALBA for your graduate studies?
As an HR professional, I felt that further improving my business acumen would be very useful, so I considered ALBA as the only solution to conduct my MBA
Share with us your fondest memory while studying at ALBA
I had many of them…mostly involving the great people I met and the very interesting things I learned!  I am really happy that they both had a long lasting effect!!
PROUST QUESTIONNAIRE
What is your greatest fear? Not living every single moment of my life!
Which historical figure do you most identify with? I am a huge fun of logic, so Aristotle.
Which living person do you most admire? Everyone that continuously develops himself and inspires the others to do the same.
What is the trait you most deplore in yourself? Sometimes I take things too seriously.
What is the trait you most deplore in others? I really hate it when someone is not respectful to society, environment or other people's differences and rights.
What is your greatest extravagance? Staying in nice hotels
What is your favorite journey? Every single one of them!
On what occasion do you lie? Generally I hate lies – and I am really terrible in telling them!
What is your greatest regret? I would like to enjoy my college years more, be more careless.
What or who is the greatest love of your life? Is it too cliché to say my daughter...?
When and where were you happiest? I am afraid that I can't be sure.  I think that happiness is a collection of moments… the first dive in the sea, dancing, when I learn something new, my first TEDx experience, when I put my daughter in bed, when I meet people from different cultures…
Which talent would you most like to have? I'd love to be a good singer or play the piano.
What is your current state of mind? Determined!
If you could change one thing about yourself, what would it be? Take more risks.
If you could change one thing about your family, what would it be? Make them less loud… ;)
What do you consider your greatest achievement? I would have to say giving birth to this wonderful girl!
What is your most treasured possession? I try not to treasure possessions so much.
Where would you like to live? In a different era, preferably in the 60s.
What is your favorite occupation? Reading a good book in my favorite bistro.
What is your most marked characteristic? Delivering on promises.
What do you most value in your friends? The fact that they make me laugh.
What are your favorite names? The names of those I love.
What is your motto? Whether you think you can or think you can't, you are right! (Henry Ford)