Monday, 01/06/2015
Graduation Year: 1998 (MBA 6)
HR Manager, Green Cola Hellas
LinkedIn Profile here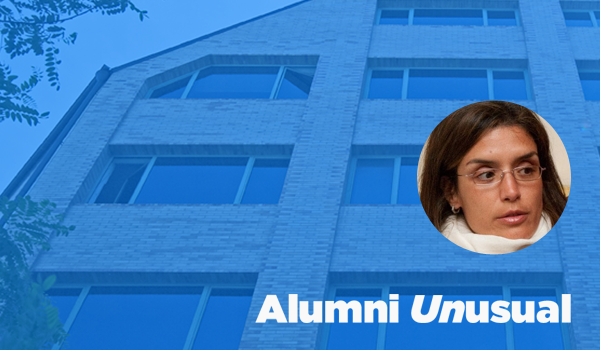 Looking back on your career, what was the most important decision you made (or didn't make) regarding your career path?
There are actually a couple of important decisions when I look back on my professional career. The first was when I decided – after doing my ALBA MBA – to change from my career in law (after having been through a lot of reading, studies and pain J) to that in business. The second decision that I made is when I recently decided to join a young, dynamic, Greek company (that is Green Cola) and move away from the well-structured, "luxurious" environment of multinationals. A great experience with a lot of lessons still to be learned! 
What's the most important thing for recent grads to keep in mind as they start out their careers?
Be flexible with their available options, open their ears and always go beyond what others expect them to deliver.
What made you choose ALBA for your graduate studies?
The international outlook of the program is what attracted me to the school (both in terms of studies and professors). A choice I never regretted.
Share with us your fondest memory while studying at ALBA.
Not one to distinguish! Ι will always remember the fun, the family spirit and the stress we were all sharing. From early in the morning until late at night we were studying all together at the school, eating at Ilda's or at Artopolis, hanging around Vouliagmeni's streets (when Zahos was just a small souvlaki shop J), worrying whether the transparencies for our presentation will get the right print from the inkjet printer!!!!! I will always treasure those days at ALBA. 
PROUST QUESTIONNAIRE
What is your greatest fear? Sinking in dark waters
Which historical figure do you most identify with?

Nelson Mandela. He was a kind of man…
Which living person do you most admire?

Many everyday people. I would stand out my aunt! Caring, fighter, positive and always there J
What is the trait you most deplore in yourself? Lack of patience… next….
What is the trait you most deplore in others? Lack of gratitude
What is your greatest extravagance? Eating chocolates every single day J
What is your favorite journey? Any country in Latin America
On what occasion do you lie? My professor at Law School used to say "Lawyers do not lie, they just don't always tell the truth" J I don't like lying. The key is to avoid being asked the "wrong" questions.
What is your greatest regret? Not having started travelling younger
What or who is the greatest love of your life? Sokofreta J
When and where were you happiest? Many happy moments with friends in places around the world (Lake Titicaca, Angkor Watt, Disneyland, Table mountain etc). When I was thinking that I was strong enough that I could even fly!!! J
Which talent would you most like to have? Learn easily foreign languages
What is your current state of mind? Summerish!!!
If you could change one thing about yourself, what would it be? Even a minor change can make things worst… so let's keep it as is… J
If you could change one thing about your family, what would it be? Bring back to life a precious member, even for a day… just to say things that I should have said when I could
What do you consider your greatest achievement? Being a winter swimmer J
What is your most treasured possession? My memories and my free time
Where would you like to live?

Any place on earth!! I am not volunteering for space…
What is your favorite occupation? Prime school teacher
What is your most marked characteristic? Positivity J
What do you most value in your friends? Loyalty and humor
What are your favorite names? Alexandros, Danai, Pavlos, Goofy, Ovelix
What is your motto? "If you think that being small does not make a difference, then try to sleep in a tent with  a mosquito"