Tuesday, 10/11/2020
#HelpingPeopleGrowIdeas in Heraklion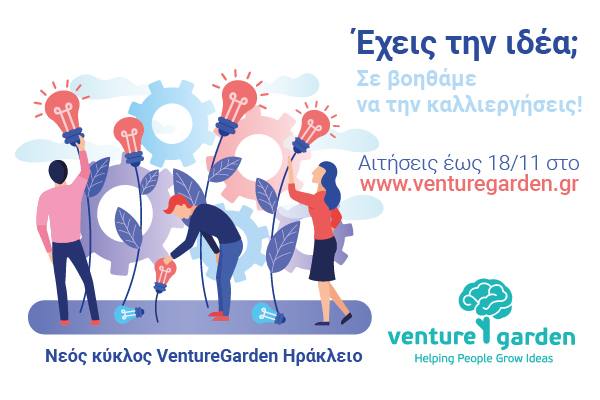 Alba partners with Bizrupt and delivers VentureGarden Heraklion for the second consecutive year.  
Apply here until November 18!
VentureGarden, Alba's outreach program for entrepreneurs is now accepting applications for the Winter 2020 round in Heraklion Crete. Our flagship entrepreneurship education program will be delivered for a second consecutive year in Crete through our partnership with Bizrupt. The Bizrupt team is dedicated to celebrating entrepreneurship and supporting local entrepreneurs. The synergy between Bizrupt an Alba combines experience in developing entrepreneurial skills with an in depth understanding of local needs.
VentureGarden Heraklion will be kicking off early December and is looking for committed entrepreneurs who either have a new business idea or are looking to transform their existing business. Having worked with over 450 ideas since 2014, it has been designed to become a personalized guide to entrepreneurship. The program is free of charge and is delivered in Greek!
VentureGarden starts with a targeted training phase that will introduce participants to the key elements of entrepreneurial action. The intensive program consists of 8 classes based on the Value Proposition Canvas, and focuses on market research and understanding customer/user needs (Problem-Solution Fit). Following the training phase, interested and committed participants receive support from experienced mentors to achieve specific goals.
Following the program's motto "Helping People Grow Ideas", we welcome all individuals passionate about entrepreneurship who have a strong sense of dedication. You can join VentureGarden regardless of your age, sex, origin, and background.
VentureGarden launched in February 2014. It is delivered in Athens by Alba Graduate Business School, The American College of Greece, and in Thessaloniki by the American College of Thessaloniki member of the Anatolia College in Thessaloniki. The program's founding donor is The Hellenic Initiative. VentureGarden Heraklion has been made possible through the kind donations of Phaistos Networks and the swedish startup Fairlo that recently established a tech hub in the city.
Apply here (in Greek). Applications are open until November 18.