Tuesday, 01/02/2022

This year's  SEV Center of Excellence in Creative Leadership's online conference had it all: amazing talks on the challenges and rewards of the digital age, the perils and joys of marrying innovation and tradition, and a new leader for the Center
Distinguished speakers from Greece's leading industries, stimulating panel discussions, and applied research findings were the elements of the SEV Center of Excellence in Creative Leadership's online conference, entitled "Tradition and Innovation in a Digital World." This event aimed to round up the 2020-2021 applied research of the Center on how Greek companies can utilize tradition as a source of competitiveness and innovation, as well as give us a sneak peek of the research topics for 2022.
A new year brought a new leader. Dr. Nikos Mylonopoulos, Associate Professor of Digital Business at Alba, was named Director of the SEV Center, a position held until recently by Dr. Charalambos Mainemelis, Professor of Organizational Behavior at Alba.
Dr. David G. Horner, ACG's President, opened the conference by emphasizing the importance of having resources to help us comprehend, cope and create new strategies for success amid pressure. Dr. Horner stated, "The SEV Center of Excellence in Creative Leadership provides such resources and assists all of us in facing the unexpected challenges of today and tomorrow."
For professionals looking to balance immediate and future challenges, Alexandros Chatzopoulos, the General Director of SEV noted that business leaders need to work in the present and plan by empowering those who will shape the future. Furthermore, Stelios Argyros, Alba's Chairman of the Board, emphasized that "creative and responsible leaders consolidate tradition, strengthen competitiveness and contribute actively and increasingly to the complex developments that affect entrepreneurship."
Learning to speak the language of the digital age is one thing but saying something meaningful in it is another
Dr. Charalambos Mainemelis shared the Center's findings from their research on a sample of Greek businesses during the 2020-2021 period. According to the results, every business, irrespective of its size, needs to identify those elements that differentiate it from the rest and make it more authentic. They need to "Learn to speak the language of the digital age." In some cases, preservation or promotion of "Greekness" could become a factor of innovation as well as a competitive advantage.
So how can a business have a competitive edge while still keeping its tradition alive? Business leaders need to integrate an innovation mentality and create a culture of creative synergies that currently does not exist. Now more than ever, there is an urgent need to connect Greek businesses with the innovation ecosystem and higher education institutions to expand the circle of innovation in Greece.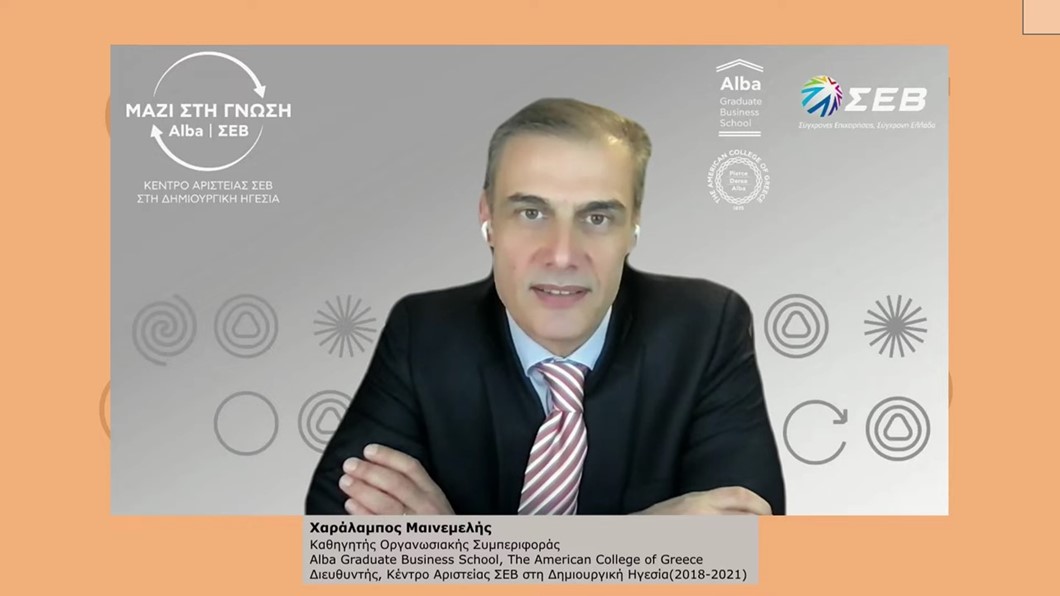 Dr. Kostas Axarloglou, Dean of Alba, and Dr. Nikos Mylonopoulos discussed the Center's research agenda for 2022 as well as the biggest challenge for creative leaders today. These executives need to manage difficulties while creating a reconciliatory culture to promote innovation. Both speakers underlined the tremendous importance of research, as it contributes substantially to the redesign of organizations and the adaptation of businesses and leaders to the digital age.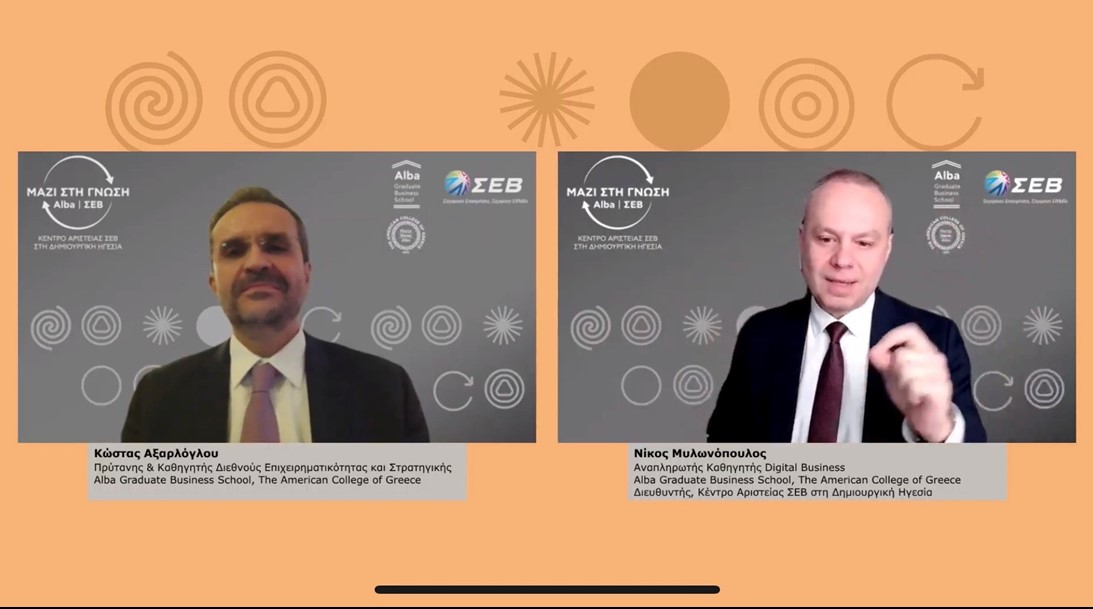 Being innovative takes courage: lifting the stigma of failure and breaking new ground
Finally, the conference rounded out with a lively discussion from successful executives of companies operating in the Greek market who shared their experiences. Their companies are examples of how a large business with a long tradition can adapt during periods of upheaval via digital innovation. We were pleased to be joined by Jannis Delis, COO Merchant Services, Euronet Worldwide, Yiannis Papidis, Chief Technology and Business Change Officer of Dixons South-East Europe, Yannis Paraschos, IT Director of TITAN Group and Vassilis Trapezanoglou, Chairman of the Board of Viva Bank and Founder and Managing Director of DISC SA.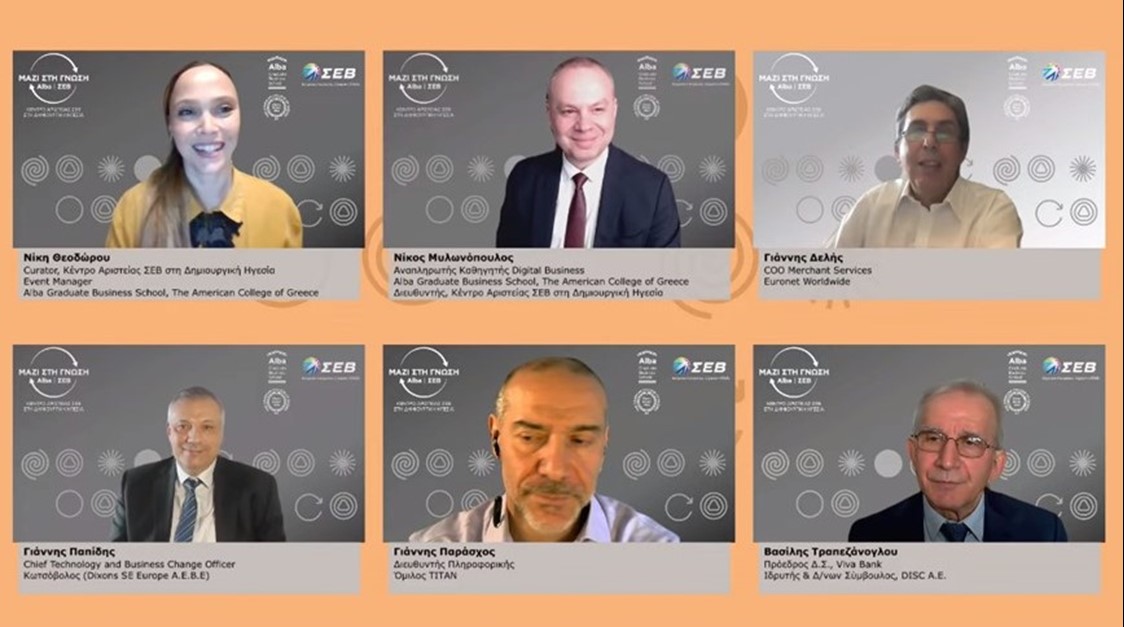 The panelists emphasized the need for creating a professional environment wherein business leaders are pushed to become adaptable and innovative by learning to accept failure and mistakes. They all agreed on the importance of creating a culture of innovation, keeping an open mind and learning from the past to build a better future.
For more insights on "Tradition and Innovation in a Digital World," you can watch the conference in its entirety (in Greek)