Thursday, 05/09/2013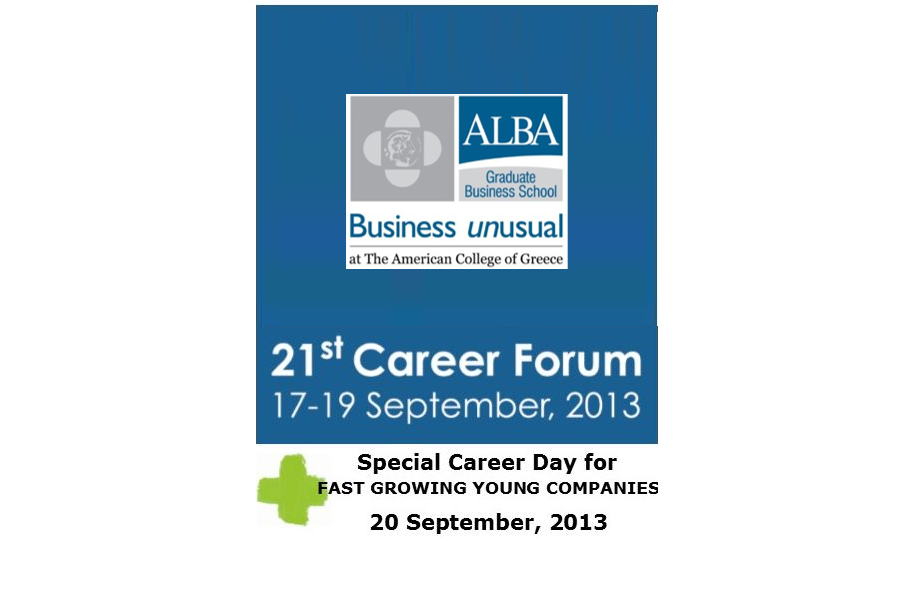 Special Career Day for jobs at Young Fast Growing Businesses within the 21st ALBA Career Forum
In the frame of the 21st Career Forum, ALBA Graduate Business School at The American College of Greece announces its first specialized Career Day for its Graduates with job opportunities in Young Fast Growing Businesses. The add on day will take place on September 20, 2013 at ALBA's downtown campus in Athens (Xenia 6-8, Mavili Sq.).
This new initiative is co-organized by the Career & Alumni Office and the ALBA Hub for Enterprise and Development (AHEAD), with the support of Workable. It will bring together ALBA's MBA and MSc Graduates, and startups of any industry that are pursuing fast growth. ALBA's mission to support the entrepreneurial ecosystem goes beyond events and aims at supporting young businesses in their effort to grow by offering its most valuable resource: its well trained and educated Graduates.
Businesses of this kind that are looking to recruit talent for managerial, marketing, finance, sales, customer service etc. positions now or in the near future, can join this Career Day without any cost. Talks, one to one meetings and networking sessions will allow participating businesses and Graduates to meet.
For more information and details please contact the ALBA Hub for Enterprise and Development at 210 8964531, [email protected] .
The Career Forum is the pinnacle of the Career & Alumni Office's activities, which throughout the year, is close to students by preparing them for their successful integration into the job market, as well as to companies by providing them with access to high-caliber candidates. The ALBA Hub for Enterprise and Development (AHEAD) offers support and services to entrepreneurial ALBA students and alumni. At the same time it works together with local and international initiatives to boost entrepreneurial activity in Greece