Tuesday, 02/06/2015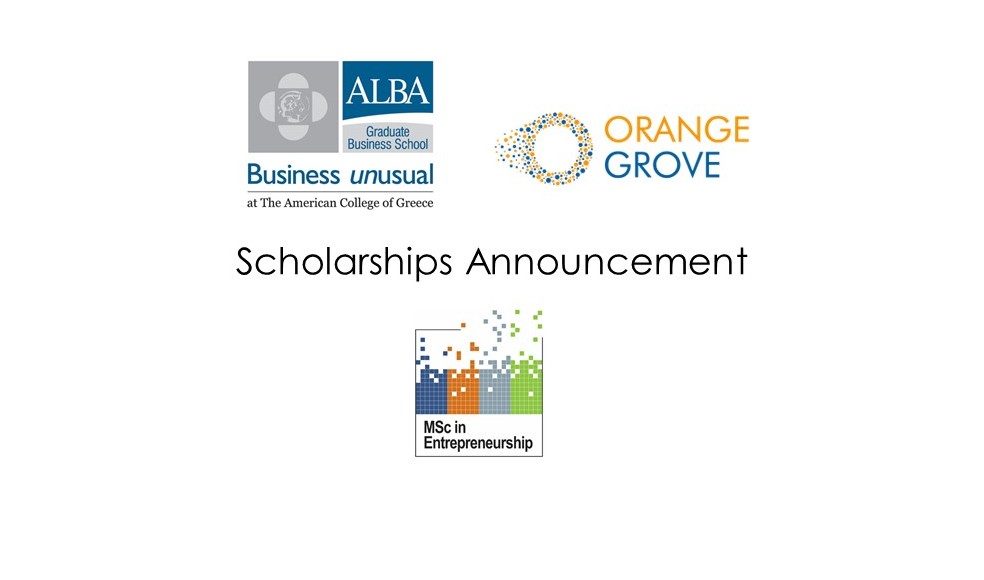 ALBA Graduate Business School at The American College of Greece in collaboration with Orange Grove are pleased to announce two partial scholarships for the MSc in Entrepreneurship. Each scholarship covers 50% of the degree's tuition fees and has a value of €6,250.

Loyal to its mission to support entrepreneurship in Greece, Orange Grove is offering these scholarships to its community. Since September 2013, Orange Grove has helped 88 businesses to develop ideas and grow their business. The partnership with ALBA Graduate Business School offers the opportunity to entrepreneurial individuals to pursue a formal degree in this upcoming field.

The MSc in Entrepreneurship offered by ALBA Graduate Business School is built around the motto: Live It. Craft It. Master It. Create It. This postgraduate degree is a blend of lean startup methods and rigorous managerial knowledge. It gets students out of the building to experience entrepreneurship and allows them to create their own entrepreneurial paradigm. It is ideal for aspiring entrepreneurs, startupers, family business next generation members and those who want to work for one of the growing Greek or international startups.

Two members of Orange Grove's community will have the opportunity to study at ALBA Graduate Business School with an "Orange Grove Scholarship" in the academic year 2015/16 that starts in September.

Applicants will need to submit the application form required for the degree and mention that they are interested in receiving the "Orange Grove Scholarship". Once applicants pass ALBA' s academic evaluation and are admitted to the degree, the scholarship committee will select the "Orange Grove Scholarship" recipients.

The deadline for the "Orange Grove Scholarships" is June 30, 2015.

For more information please contact Orange Grove viainfo@orangegrove.biz or 211-4082551/2/8