Tuesday, 15/11/2022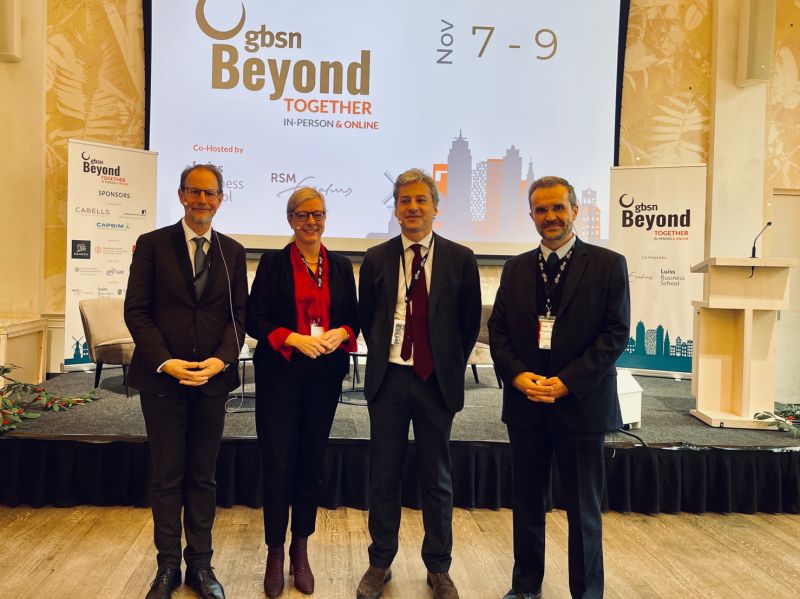 On November 9, prominent academics from all over the world gathered in Amsterdam for the GBSN Beyond 2022 conference . This year GBSN Beyond  delivered a variety of engaging learning experiences, knowledge exchanges, and networking opportunities for participants coming both  from academia and industry, across the globe  Among the esteemed speakers, was Alba's Dean  Kostas Axarloglou, who participated in the Dean's roundtable discussion "Intersection of Executive Education and Impact of Society".
Dean Axarloglou and his fellow panelists, Mariëlle Heijltjes, Dean of Maastricht University School of Business and Economics, and Raffaele Oriani, Dean of Luiss Business School, provided insights into the exemplary executive education programs they built with the aim of developing the leadership and management skills that businesses need to enhance performance. The panel discussion was also a great opportunity for participants to understand how graduate schools are adapting to new changes, such as technological advancement, overcoming the energy and financial crises, and addressing new needs, such as an emphasis on lifelong learning and sustainability.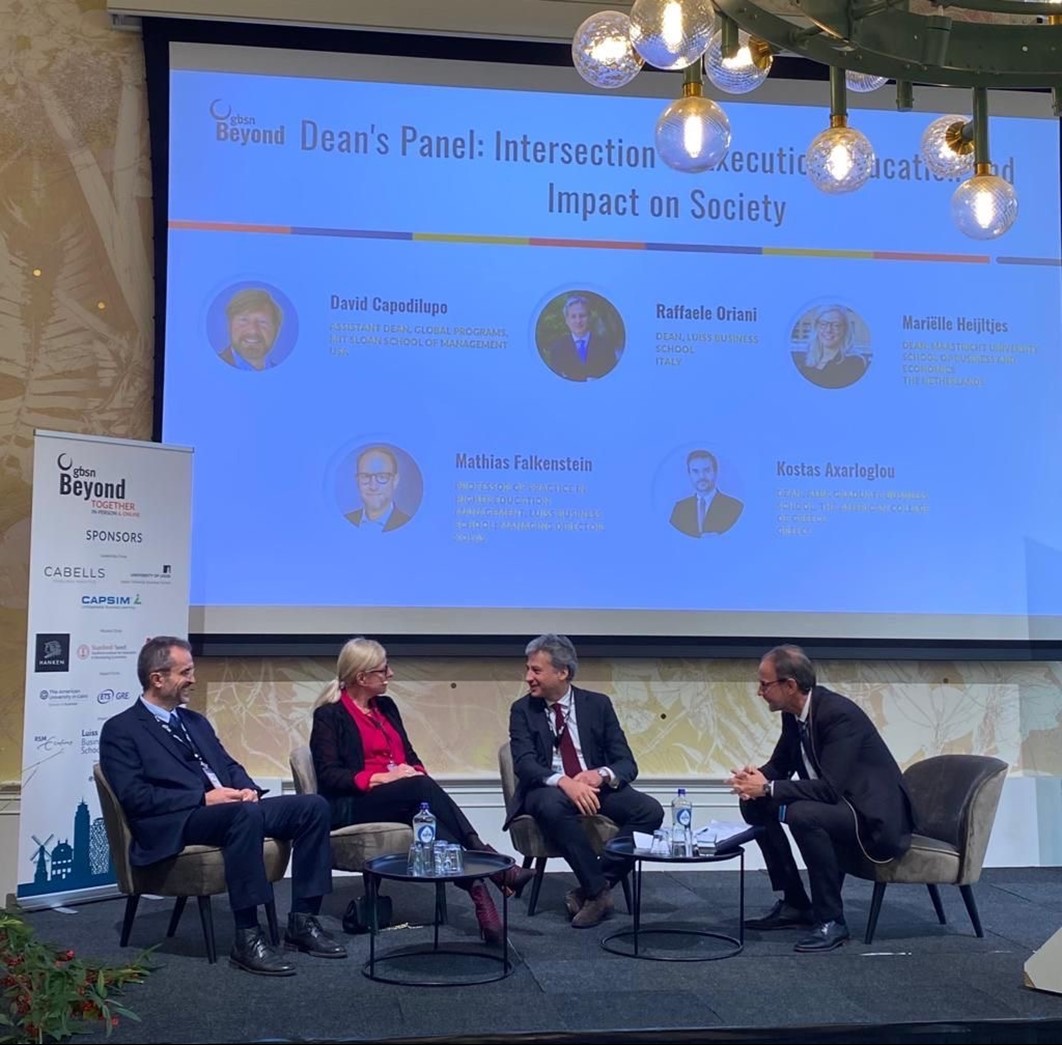 Dr. Axarloglou focused on the transition "From Shareholder to Stakeholder Value: From Company Clients to Company- Donors." One of his key points was that to achieve sustainability, companies should evolve and transition from maximizing "shareholders" value to caring about and enhancing "stakeholders" value.
Dean Axarloglou proceeded with his presentation on the current transition in the companies' purpose of enhancing "stakeholder" value and how companies have started not only to support but also sponsor learning initiatives that do not target their employees but instead aspire to help and support various social groups (i.e. less/under-privileged social groups, their own stakeholder) and other stakeholders, offering learning opportunities to society with broader and direct impact to society stakeholders. This transition matches the major shift from "shareholder" to "stakeholder" value, and is a shift from "company-client" to "company-donors."
Moving on, Dean Axarloglou pointed out the significance of Executive Education, which traditionally constitutes a "strategic learning and development" partner of organizations offering learning initiatives to support employee talent development. Additionally, Dr. Axarloglou explained that companies are "company-clients" for learning providers like Alba, and by fostering employee growth and learning, businesses increase the value creation for society.
To further explain his argument, he provided the example of the Alba Executive Development "CSR Learning Series," in which companies and foundations support the provision of learning initiatives for underprivileged social groups in various parts of Greece. Dean Axarloglou then emphasized that these learning initiatives work complementary with the educational system and highlighted the importance of collaborating in ecosystems in order to have a social impact and facilitate lifelong learning in society.
During the panel discussion, interesting questions came up. How has Alba changed its Executive Education program to be more responsive to Environment, Social & Governance (ESG)? How much of that happens proactively from the school and how much of that reactively, because of your client's requirements?
According to Dr. Axarloglou, the recent global disruptions have impacted Executive Education programs. In the past, people used to think linearly, but due to Covid-19, energy, and financial crises, there has been a talent gap and a shift to focus on ESG. Moving on, he agreed with Dr. Heijltjes, who said that it is a combination of being proactive and responsive while pointing out that learning ecosystems are the new normality.
Specifically, he clarified that "schools should have the role of facilitator, where there is co-development of content, knowledge, skills, competencies, and mindset among the stakeholders." Dean Axarloglou provided an example of how Alba, moving away from the traditional model of linearity in terms of education, applies learning ecosystems through its partnership with the Federation of Greek Industries: "Big companies give us funds and we create along with them (the Federation) learning initiatives for the manager of the corporate managers." 
 Watch the Panel Discussion here.