Tuesday, 20/01/2015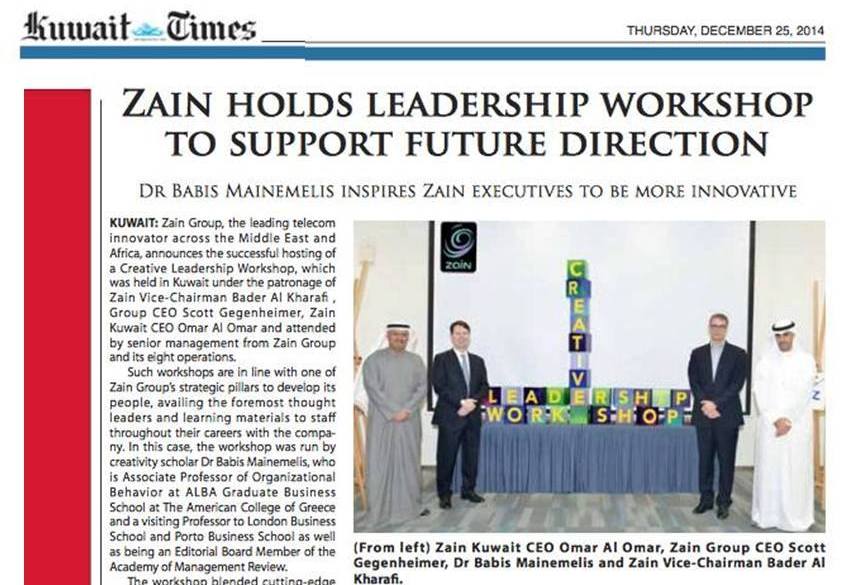 Zain Group, a leading telecom innovator across the Middle East and Africa, announces the successful hosting of a Creative Leadership Workshop, which was held in Kuwait under the patronage of Zain.
Vice-Chairman Bader Al Kharafi, Group CEO Scott Gegenheimer, Zain Kuwait CEO Omar Al Omar and attended by senior management from Zain Group and its eight operations.

Such workshops are in line with one of Zain Group's strategic pillars to develop its people, availing the foremost thought leaders and learning materials to staff throughout their careers with the company.

The workshop was run by creativity scholar Dr Babis Mainemelis, Associate Professor of Organizational Behavior at ALBA Graduate Business School at The American College of Greece and a visiting Professor to London Business School and Porto Business School as well as being an Editorial Board Member of the Academy of Management Review. The workshop blended cutting-edge research on creativity in organizational settings with numerous concrete examples of creativity and innovation practices in a wide range of organizations and industries.

Commenting on the successful completion of the workshop, Bader Al Kharafi said, "At the board level, we make no secret at Zain that our number one asset is our people. We are keen to continue investing in them, exposing them to latest in leadership creativity and allowing them to reach their full potential. By doing so, we believe this will enhance performance and drive shareholder value." On his part Scott Gegenheimer noted, "Dr Mainemelis is a world-renowned expert in the field of creative leadership and we consider ourselves fortunate for him to have come and shared new insights and management style ideas with us. As senior management, we will also continue to strive to be better leaders, which will in turn create a better Zain and support our future strategy of being a leading digital innovator."